With the season winding down, I return to the tradition of recapping the season for all the teams I covered, while spending a little space on each senior that helped make the DIII community so fun to cover for the past four years. I only covered seven teams this year, so fans of Southwestern and Pacific and the like will have to wait for a separate article. Don't feel jilted. Anyways, this is gonna be a long article, so let's jump into it.
UC Santa Cruz
I took on Santa Cruz as one of my teams not because I actually thought they were going to be ranked this season, but because I know they deserve to be ranked (and because I have a special affinity for the city, which is an absolutely magical place). The story of the season was obviously poor scheduling. They didn't play a single team ranked between 13-40, and they picked the worst year to choose not to play Whittier. Nevertheless, the team was definitely stronger than their lack of ranking would imply. They took Pomona-Pitzer (without Yasgoor) to 5-4, and picked up some solid non-divisional wins over Point Loma and Westmont. Though recruiting has gone stagnant, they return the nucleus of a good team, and should be able to break into the rankings next year with some decent scheduling and development. Here's to the seniors who kept the program respectable amidst the constant cloud of potential athletic department demise:
Derek Levchenko – Levchenko was a quintessential DIII success story. He started outside the starting lineup, and slowly worked his way in before finishing at #3 singles his senior year. It's hard to have a lot of career highlights when you don't play many DIII matches, but last year, he beat Bryant Johnson en route to the ITA Round of 16, and this year, he notched the only point for UCSC against Redlands when he beat all-American Joey Dulle in a 10-pointer. His constant presence will be sorely missed.
Sean Hollister – Hollister spent a lot of his college career dealing with injuries, but when he was healthy and practicing, he was a very solid middle/lower lineup singles guy, as well as a consistent doubles presence. His best win came as a sophomore when he beat Courtney Mountfield in a loss to Middlebury, and I always felt like he was constantly on the brink of making a breakthrough. Some more DIII matches would've helped, but both these guys deserve a lot of credit for persevering through a lot of administrative hardship. Congrats on some great careers!
UT Tyler
There were many question marks for the Pats going into the season with the off-season departure of longtime coach Chris Bizot. Though expectations were tempered by his departure, the Pats started the season well with dominant wins over Kenyon and Stevens (and an impressive 6-3 loss to Amherst). Weirdly, the season took a turn for the worst when they got back to Texas, as they lost 5-4 matches to both GAC and Whitman, which prevented them from finishing in the top 20. With just three seniors on the roster and a bevy of international stars still developing, the future looks bright for UT-Tyler.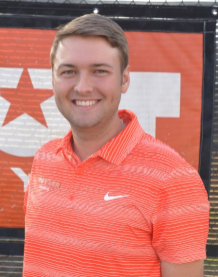 Jake Cunningham –  I can't say I know much about Jake Cunningham other than the fact that he was a hard worker and a great character guy. He could do some damage in the Southwestern ITA, but never really cracked the starting lineup. I wish him success in whatever comes after tennis!
Ryan Elwood – You gotta love Ryan Elwood. He came into a stacked team and was constantly fighting for a lineup spot at the bottom of the singles lineup. He took some lumps, but had his share of victory too, including an epic win over Wash U's Rhada Vishnubhotla that nearly helped the Pats pull off what would've been one of the biggest DIII upsets ever. He developed his doubles game throughout his career, and was probably stronger there than on the singles court by the end of his career. He played with three different partners at #3 doubles this year, and picked up key wins over Southwestern and Whitman. It's hard to say where UT-Tyler would've been without him, but I'd rather not think about it.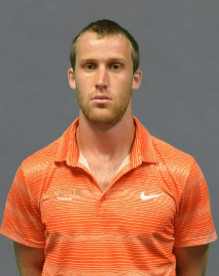 Joey Fischer – A transfer, Joey Fischer took his lumps when he first came to DIII. In his first year, he lost close matches to Kenyon, GAC (x2), Trinity, and Wash U, all in 5-4 team losses. But out of the fire of that pain was born a phoenix who lifted his team to victory against Whitman in the Round of 32 that year and went 2-0 against CMS in a near-upset-of-the-century situation with a 6-0, 7-6 victory over Max Macey. Fischer continued that clutch play into his senior year when he beat players from Kenyon, Stevens, GAC, Whitman, and Southwestern. His 5-7, 6-2, 6-2 win over SW's Haluki Nakayama stymied a Pirate upset bid in a 5-4 win. His serve-and-volley game consistently flabbergasted more contemporary foes, and I'll miss the variety he brought. Congrats on a great career!
Pomona-Pitzer
I had high hopes for the Sagehens this year with their bevy of seniors, but it never materialized. An early season loss on the road to Whitman lowered their ranking, but it was 5-4 losses to Redlands and Wash U that ultimately doomed their Pool C hopes. Though in some ways, you have to wonder what could have been with them, I prefer to take a step back and appreciate this senior class. It was Coach Belletto's final recruiting class, and it included five players. Usually, you're lucky if 2/5 become consistent lineup contributors (even – or perhaps especially – with fifteen stars between the five of them), but all five started for multiple years, and all of them started in both singles and doubles at different points. They were instrumental to the magical 2015 top 5 finish, and basically raised PP's expectations from a perennial 15-25 team to a perennial 5-15 team. This season may have been a minor disappointment, but well done guys!
Joshua Kim – For the first have of his career, Josh Kim was kind of "the other J. Kim on Pomona-Pitzer" in my mind, but that's just because I wasn't paying close enough attention. As a freshman, he helped clinch a 6-3 win over Redlands with a win over Graham Leahy. In the Revolving Door as a sophomore, 3-set wins against Skidmore and Tufts kept the 5-4 magic alive. He also won in straights against Amherst and Williams in more pedestrian 6-3 wins. He was dealing with injuries for a lot of his junior year, but came out of nowhere at the end of the season to become a lights out #3 singles player, narrowly losing to Daniel Morkovine in a dramatic SCIAC final. Though he finished his career on a sour note with a couple 3-set losses to Redlands and CMS, the team would not have stayed in the top 15 without his crucial wins over Tufts and Case (twice). He was consistent and incredibly tenacious, and I'm sure future generations of PP players will benefit from the example he set.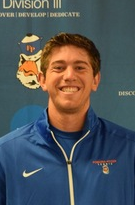 Spencer Simonides – Simonides didn't spend a ton of time on the singles court (though his 6-3 third set win over Williams' Howie Weiss sticks out as a career highlight), but he was an absolute monster on the doubles court. The visor. The noise. He brought it all. He had far too many big victories to list, but one very notable accomplishment came when he and Graham Maassen got hot at the end of last year to qualify for doubles nationals before beating Chicago's #1 team in the first round to make the quarters and the all-American team. He and Antony Bello also qualified for nationals this year and have an outside shot at an all-American spot based on national ranking. Not bad for a 2-star.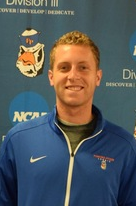 Antony Bello – Massive serve. Massive forehand. Massive arm-sleeve. Bello was your quintessential American tennis player, and he left his mark on the SCIAC. Bello got his career started off on the right foot when he and Chris Weichert teamed up at the fall ITA to beat Warren Wood and Joe Dorn, and he didn't look back from there. He went on to make the ITA all-American team that year with Weichert, and he has now bookended his career with a second nationals appearance in doubles. In between, he did a lot of damage. One thing that sticks out to me is the fact that he was a bit of a Stag Kryptonite over his career. At different positions over the course of his career, he went 11-3 in official competition against CMS teams. That's absurd.
Graham Massen – Graham Maassen did not have a good season this year, but I'm not here to talk about that. For his first couple years, he was always a solid middle-of-the-lineup guy. At 3, 4, and 5 singles, he contributed to the 5-4 madness with wins over Trinity, Amherst, Tufts, Middlebury, Chicago, and Redlands. That's enough of a career for anyone (putting aside his great freshman campaign entirely). But last season, the dude with locks as silky as his grounds strokes was possessed by some sort of wildebeest demigod. He came out of nowhere to become one of the best #1s in the country with wins over household names like Johnathan Jemison, Matt Heinrich, and Chase Lipscomb. That was enough to get him to nationals. He also got it going on on the doubles court where he and Spencer Simonides made the Ojai finals and qualified for the all-American team by making the NCAA doubles quarters. What a career!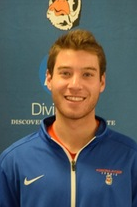 Jake Yasgoor – Jake Yasgoor dealt with injuries his whole career, and he was still one of the best players in DIII tennis for the past four years. As a freshman, he was one of the best #2's in the country and beat Warren Wood (maybe twice?). He went 13-4 at #1 and #2 singles as a sophomore (5-4 madness), gave Abishek Alla two bagels as a junior, and went an insane 15-3 at #1 singles this past year. He has yet to make an all-American team (and he lost his first round singles match the other day to Lubo Cuba), but if he doesn't finish this season in the top 20 to make it this year in singles, it will be an absolute traveshamockery. I don't have the numbers, but I'm sure he's one of the winningest players in Pomona-Pitzer history, and I can only imagine how many matches he would've won if he had been healthy the whole time. I just wrote a whole paragraph without even mentioning how ridiculous he and Jon Kim were in doubles. Dude was en fuego. Give him all-American honors!
Whitman
It was obviously really gratifying to see my old team get back on the right track this season. They started it off right with some big wins over GAC, Swat, and Pomona-Pitzer at home, and they ended up riding that to what will probably be a top 15 finish. It's too bad they weren't able to win those last two points against Case Western, or they might have finished in the top 10. Either way, they had a much better energy about them this season. Though Jivkov and Hoeger are graduating, their roster will be absolutely loaded with seniors next year, and it will be their best chance to finish a season in the top 10 or surprise someone and make the Elite Eight. The Blues will probably never recruit like their West region contemporaries, so I hope the rising seniors get out and play this summer to get ready for what will be a big season next year!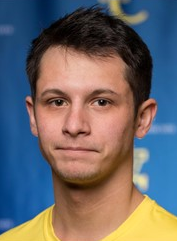 Joey Diaz – Hailing from the illustrious Rocky Mountain Tennis Center, Diaz' tennis career wasn't what it could have been, but that was mostly due to injuries. He showed what could have been when he nearly beat Andrew You in the ITA his sophomore year. Nevertheless, I'm sure he'll be successful in whatever comes next!
Jacob Christiensen – Christiensen never cracked the starting lineup, and he'll be the first to tell you that he peaked when he and Alex Noyes upset a seeded Pacific team to make the NW ITA doubles quarter. He was, however, a locker room glue kinda guy that helped keep the team together through some tough losses. Good luck in your future career!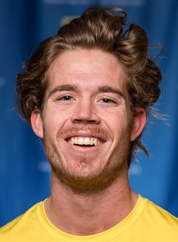 Jakob Hoeger – Hoeger rarely started in singles, but he was an absolute beast on the doubles court. He slapped his serve, slapped his returns, and closed like a post office on Sundays. His career highlight probably came his sophomore year when he and Zach Hewlin won the NW ITA doubles tournament to land him a spot on the all-American team. When he was good, he was great, but when things weren't working, he could drop some matches to conference opponents. If he had been playing in the SCIAC, I'm sure he would've made an NCAA tournament in doubles at some point, but he'll just have to settle for finishing his college career with a win over Lambeth and Tyer. Not bad.
Petar Jivkov – Jivkov has always been one of the more enigmatic players in DIII. He broke onto the scene by making the finals of the NW ITA as a freshman, and and for his first three years, he alternated between being one of the best at his position and losing absolutely mystifying matches. This year, he got it all going one. He was one of the better #2 singles players in the country (beat Grant Urken in straight sets). He also teamed with Hewlin to make a very formidable doubles team. Though they spent most of the season at #2, they made the semis of the Ojai and beat a pseudo #1 doubles team from Boise State. I attribute a lot of Whitman's success this season to Jivkov becoming one of the premier players in DIII. Congrats to him on a stellar career.
Trinity
Trinity's season got off to a bit of a rocky start when they lost a big lead to Case Western at Indoors, but they recovered nicely when they got back to Texas (pretty much the opposite of UT-Tyler, oddly enough). At home, they beat GAC, Tyler, and Whitman. A second victory over Whitman at nationals helped them make their n-th consecutive Sweet Sixteen, and should keep their ranking high enough for them to qualify for Indoors next year. Though Niess and Mayer will be missed, the Tigers have five underclassmen with significant starting singles experience, including freshman Jordan Pitts who had an incredible season at #3 singles (16-5 with a wins over Bouchet and Derbani). They've also got a monster recruiting class coming in, so the future is bright for the Tigers.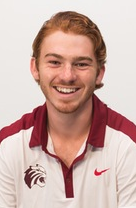 Clayton Niess – My first blog memories of the man they call Nemo came when he played wise way beyond his years in the NCAA tournament as a freshman. Teaming with a senior, he was the best player on the court in both the Elite Eight and Final Four in doubles victories over Wash U and Amherst that nearly took the Tigers to the finals. Though the rest of his career was intermittently marred by shoulder trouble, he never lost that Eye of the Tiger (pun intended), including when he helped the Tigers win the 2015 Indoors title with doubles victories over Hopkins and Emory. This past season, he and fellow-senior Chas Mayer were one of the most fearsome #2 doubles teams in the division, notching doubles victories over Whitman (x2), Emory (x2), CMS, GAC, Kenyon, etc. It takes a lot of courage to keep fighting back from injury like Nemo, and he'll be remembered as one of the toughest in the game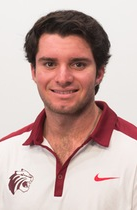 Chas Mayer – Mayer is another one of those quintessential DIII success stories. He entered Trinity as an unheralded recruit and left as one of the most solid two-way players in the country and a tough #1 singles player. I'm sure he'll remember his victory over Lubo Cuba this year fondly, but for me, he came of age in tennis when he out-dueled Tanner Brown at #6 singles in a 3rd set his sophomore year to put Trinity in the Indoor finals. From then on, he was a tough out no matter what position he played, and he'll be remembered as a great player and a great leader. Congratulations and good luck moving forward!
Redlands
I've said it a couple times, but I feel that the Bulldogs are the only team amongst my seven that definitely overachieved this season (it's hard to overachieve when you're CMS and the expectations are so high). This was in large part due to the seniors who all stepped up in a big way for the Dawgs this year. They've official shed their former chokers label, and they came very close to qualifying for the national tournament through Pool A with a victory over CMS in the SCIAC final in sub-optimal tennis conditions. Though the Dawgs have yet another solid recruiting class coming in next year (featuring the brother of yet another DIII legend – this becoming a yearly thing for them now, I guess), it will be really interesting to see how they deal with the loss of the heart of their singles lineup. Hopefully Pool C will continue to expand, and the Dawgs can get back in the tournament where they belong sometime soon.
Tom Suchodolski – Suchodolski is a bit of a blog legend for live-tweeting scores from Amherst his freshman year and on behalf of his team after that, but his contributions go well beyond that. When he was healthy, he was a great middle-lineup singles player, despite some really confusing losses. After missing his junior year, he really got it going on as a senior, playing mostly #5 singles. One interesting accomplishment of his is the fact that he and Parker Wilson were undefeated in SCIAC play this year at #3 doubles with two wins apiece over Pomona-Pitzer and CMS. He did everything he could to get his team in the tournament, including a 2-0 performance in a heartbreaking loss against Williams, and a near-victory over Patrick Wildman in the SCIAC final (the match didn't finish because it was decided). Always the team player, Suchodolski is sure to have success in whatever he does next.
Parker Wilson – Like his doubles partner, Wilson is another guy who struggled with injuries throughout his collegiate career, but when he was on, he was a tough out. Most recently, he made a run to the semis of the Ojai, which put him just on the outside of NCAA qualification (unfortuantely). According to the ITA website, he finished with 101 victories, but I'm sure it was much more than that, which is a fancy way of me saying that when he played, he won. It's a bummer that he didn't make NCAA's this year, but he helped usher in a new, clutcher era of Redlands tennis, and I wish him luck moving forward.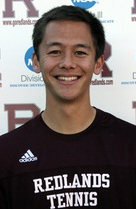 Jake Ly – Jake Ly is your classic 1-star-turned-doubles-all-American guy. During his first two years, he was mostly a doubles specialist, but his junior year he came out of nowhere to become probably the most consistent singles winner on the team for his past two years. Though they lost their last two doubles matches, he and Joey Dulle made a dynamic duo that took them all the way to the finals of the Ojai (Dulle with the quick serve, Ly with the quick hands). In his final singles match, he clinched a SCIAC semifinal victory over Pomona-Pitzer punctuating the culture shift he helped start for Redlands from consistent 5-4 loser to contender. If his teammates can make the next step, we'll be seeing Redlands in the NCAA tournament consistently in the near future. Congratulations!
CMS
This CMS team has been the most fun to watch since the 2014-2015 Pomona-Pitzer team with their bizarre inability win a doubles match and their total singles dominance. (This article has been long enough, so I'm not gonna look it up, but I'm pretty sure they finished the season with like a .350 record in doubles and a .833 record in singles against ranked teams, punctuated by 3-6 and 9-3 showings at nationals, respectively). Over the course of the season, they recovered from five doubles sweeps, which I know is a record without having to even look. Unfortunately, they couldn't recover from a fifth doubles sweep in the NCAA finals against Emory, but the senior class won an NCAA championship and went to two more finals. Not bad. Looking forwards, even though CMS graduates five seniors, they'll just reload with five freshman starters returning (Parodi, Park, Yeam, Berber, and Williams) and another huge recruiting class coming in.
Rohan Shankar – Rohan didn't spend a whole lot of time in the lineup for the Stags, but when he got in there he made the most of it. Most recently, he took advantage of a depleted lineup to help CMS beat Bates early in the season. For almost any other team, he would've started, but instead he hung with the best in the country for four years and walks away with a national championship and a degree from the best engineering college in the land. Not too bad.
Alex Brenner – Alex Brenner is a cool story. He comes from CMS as a 2-star, and I'm sure most people seeing that would've figured that he never would play in the starting lineup. He spent his last three years just on the cusp of starting (with guest appearance here and there). He makes the semifinals of ITAs with a win over Jake Yasgoor in the fall of his senior year, and you figure this is the year he finally starts, but Patrick Wildman gets healthy, and Daniel Park starts hitting well, and he's left out in the cold once again. A lot of people would've given up after repeatedly being recruited into obsolescence, but Brenner didn't. When Coach Settles called his number in the NCAA finals of his senior year, he answered the call in a big way and absolutely dominated some of the best #6 singles players in the country. I'm glad he got to go out with a couple victories, and good luck in the future!
Max Macey – Macey is a guy who would've played #1 for almost any other team in the country, but as it was, he was one of the best lower-lineup players in the country for the bulk of his career. He could grind all day, and that tenacity will serve him well moving forward. Though it's a shame he didn't get to finish his last match, he lost just one singles match his entire senior year, and he, of course, is a national champion. Congratulations on an incredible career!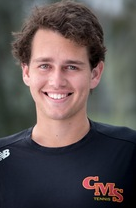 Glenn Hull – When I was an assistant at Whitman, I actually recruiting Glenn with one of my first calls (something I really hope he doesn't remember). The rest of the DIII world got acquainted with him when he came off the bench in the NCAA finals to play #6 his freshman year. That didn't really end well for him, but the experience he gained helped him win the California ITA the following fall and then clinch the national championship at #6 singles in the Spring. He earned his "Sunshine" nickname with his smooth strokes on both sides, but his opponents mostly just remember his massive forehand. He lost just one singles match his senior year, but he deserves a lot of credit for playing through pain in his last couple matches, and he may garner a second all-American nod for his efforts this season. The consummate sportsman and champion. Congrats on a great career!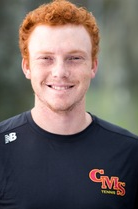 Daniel Morkovine – Of the highly-touted CMS class of 2017, Mork was the only one who consistently started for all four years. He started off as a scrawny freshman at #5 singles with a penchant for going 3 sets. He'll finish as a 3-time Ojai doubles champ, an ITA singles and doubles champ, an NCAA quarterfinals, a many-time all-American, and a team national champion (still with a penchant for going 3 sets). If he's anything like me, he'll be replaying points from the NCAA final against Emory in his head for the next couple years, but I hope he knows he played with a lot of courage for that match and for his entire career. He came back so many times when people counted him out, and I have know doubt he'll be successful in whatever he chooses to do. Congratulations!
That's it! Thanks for sticking with me for this novella. For those with a year or two left in your college careers, good luck getting ready for what I'm sure will be another great season of DIII tennis. For those who don't, I hope you keep enjoying this great game into the future! If anyone in San Diego wants to hit this summer, message me on Twitter @D3_West. If I forgot anybody, I'm sorry. It's a lot of information to wade through. I'll be happy to throw on an addendum.