Happy Wednesday, boys and girls. Last weekend was the biggest of the fall in terms of DIII action, and some of the older other writers have gotten a jump start on recapping the weekend's events. I'm going to follow CHB's report card style system and hand out some mid-term grades. D3Regional has been kind enough to send me his thoughts on a couple of his teams as well. If you came for D3Regional, and honestly who could blame you if you did, feel free to skip ahead a bit. I also sent out a request on Twitter for questions. I only got one response this time…
New England is neither "new" nor "England." Discuss…

— Linfield M Tennis (@LinfieldMTennis) October 1, 2017
Great point. This could just as easily have been called the Fairly Adjacent to Japan ITA? Or maybe the Super Pretentious And Not Always Knowledgable On Politics ITA? I'm open to your suggestions, depending on what type of food has you in the mood. Anyways…
MIDDLEBURY (National Ranking: 3, Regional Ranking: 1)
Highlight: Noah Farrell and Peter Martin. Bet you didn't see that one coming after the first day! Farrell and Martin, projected to be MIDD'S #3 DOUBLES TEAM, made it all the way to the finals, and had to win a play-in match to even make the round of 32. They looked great doing it, not dropping a game until their 3rd match, and having no match closer than 8-4 ALL THE WAY UNTIL THE FINALS. Yes, they had a nice path carved for them by some other upsets, but you play the draw you get and this Midd doubles team deserves some love for its weekend! This team lost first round at the Middlebury Invitational last week for crying out loud (to Skidmore's projected #2 or #3 team).
Takeaway: When did depth become one of Midd's strengths? If that's the case, does this team have any true weaknesses? With Vanezis and Van der Geest both performing very well again, the bottom of Midd's lineup looks rock solid. Add on the finals appearance from a lower doubles team, and it looks like it will be exceedingly difficult to get five points from Midd on any given day.
Grade: A-. The only thing keeping Midd from a straight-up A is the lack of hardware. Farrell and Martin finished 2nd in the doubles, but if you had told me that after advancing all six guys out of the 1st round and five guys to the sweet 16, I would've told you that a Midd player winning it all was a lock. Much like the PGA Tour, these guys are good.
BOWDOIN (National Ranking: 4, Regional Ranking: 2)
Highlight: The rise of Terk and Urk! This was a solid #1 team last year, but it looks like the duo has taken it up a notch. We saw Tercek garner All-American doubles status with Trinka a couple years ago, and the combined height of this team is approximately 15 ft 9 inches, but seeing them roll through their first rounds and then get past some VERY good teams at the end of the tournament is a VERY good sign for some VERY happy Polar Bear fans.
Go team! https://t.co/XYwZsMTzxl

— Mark Tercek (@MarkTercek) October 1, 2017
Takeaway: Bowdoin has some under the radar freshmen. I heard a lot of talk from different people about the Bowdoin freshmen at this tournament. In terms of stars, or even UTR, the Polar Bears' class doesn't quite stack up with the likes of Amherst and Williams, yet Bowdoin's crop of young guns were getting as much good press as any of the freshmen at the tournament, and that includes Finkelman, Barr, and Wei. I don't know if they're quite ready to contribute in the singles lineup this spring, but it's a really great (and necessary) sign for Coach Smith that Bowdoin will survive the graduation of Tercek/Wolfe/Roddy after this spring.
Grade: B. Other than the doubles title, only Tercek won multiple matches. Urken and Wolfe were both upset on the first day, Jiang and Roddy didn't play, and while all reports are that the freshmen look pretty good, they didn't bring home any singles wins. While this comment might make some believe a lower grade should have been given, you get your grade inflated somewhat heavily if WIN THE DAMN TITLE!
WESLEYAN (National Ranking: 5, Regional Ranking: 3)
Highlight: I've had the Finkle is Einhorn clip stuck in my head ever since D3ASW chose Andrew Finkelman to win the tournament because he had "the best name in the tournament." Well, D3ASW, perhaps you should fill out all future brackets like this, because you came damn close! Freshman Andrew Finkelman made it all the way to the Finals of the tournament, knocking off slouches like Van der Geest (projected Midd #5-6), Wei (projected Amherst #1-3), De Quant (projected Midd #2-3), and Cuba (projected Midd #1 AND DEFENDING NATIONAL CHAMPION). This was the most impressive run from a freshman I've seen in a while, and this tournament usually sees a freshman make the semis most years. In my original projections I had Fink slotting in around #5 in the Wes lineup, so this is a most welcome surprise as he looks like more of a #2 right now! Congrats on a big weekend, Mr Einhorn Finkelman.
Takeaway: Pending injury recovery, the Cards should be just as dangerous as last year. Missing four starters from last year's singles lineup, Wes still put together a good showing. Fink was the star of the tournament, but the Cards will need to get back to full health to fill out the rest of their lineup if they are going to compete with the other top teams in the conference and country (same thing) this spring. Missing guys like Tiago Eusbio (projected #3-5), Joachim Samson (projected #3-5) and Princeton Carter (projected #3-6), gives newer players opportunities, but also shows just how important those guys are to Wesleyan's success in 2017-2018.
Grade: B+. Given that 2/3 of Wes' singles starters from last spring were not playing in this tournament, they did fine. Fink alone takes this grade from medium to very positive. Daniels and Smith did about what was expected, Holtzman lost a toss-up match, Daniels/Fleischman beat freshman teams from both Williams and Amherst who could end up playing at the bottom of both lineups, but the rest of the doubles was just ok. However, the most important part of the tournament was the emergence of Da Fink.
WILLIAMS (National Ranking: 7, Regional Ranking: 4)
Highlight: BG! No brainer here. The Eph senior was a #9-16 seed and ended up winning the entire tournament! He beat four very talented freshmen along the way, oh and some guy named Noah Farrell. He won the tournament winning tight sets galore, nine of his 13 sets were 6-4 or closer! But it wasn't just a good singles result, Grodecki and Taylor made the semis of the doubles tournament before surrendering a late break against the eventual champs and #1 team from Bowdoin, falling 8-6. Grodecki was an excellent #5 as a freshman, and a very solid #3 as a sophomore, but his tenure towards the top spot last season had it's ups and downs. If he is a top player in the region this spring, it vaults Williams up my power rankings as it addresses their biggest spot of need!
Takeaway: This team is ready to take another step. The Ephs were one of the most impressive teams not only at this tournament, but of the entire weekend. If Lil Barr and elder Raghavan can earn consistent points at #2 and #3 for the Ephs, they will be very tough to beat. If any of the other freshman can come up big at the bottom of either the singles or doubles lineup, you may well be hearing Williams mentioned not as a Pool-C team on the bubble, but as a favorite to make its first Final Four trip since taking home the title in 2013.
Grade: A. Lost in the BG/Lil Barr celebration was a good win from Calvin Chung over Nathan Kaplan (projected Amherst #4-6), the elder Raghavan holding seed and pushing Cuba to a 3rd set in the Sweet 16, and Lil Raghavan making good use of his draw and rolling (dropping only 4 games in two matches) to the Sweet 16 where he lost to Farrell. The only thing keeping Williams humble right now (besides their coach and their personalities and just about everything…ok the only thing keeping me from swooning about Williams) is that their other two doubles teams both lost in the first round.
AMHERST (National Ranking: 8, Regional Ranking: 5)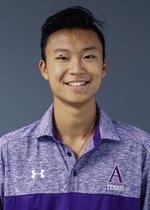 Highlight: Sean Wei. It's tough to pick between the freshmen, but Wei had the best tournament of any Mammoth. He knocked off the overall number three seed in the first round in Rosen (projected Bates #1) and then beat big-hitting Alex Taylor in the 2nd round (projected Williams #4-6), and pushed fellow freshman and eventual runner-up Finkelman to a third set in the Sweet 16. Other than Grodecki, Wei was the only person to take a set from The Fink. Wei, along with Nathan Kaplan, also won two rounds of doubles, including toppling the defending NCAA champs and overall #1 seeds in Cuba/De Quant (projected Midd #1). Good start, young fella.
Takeaway: The freshmen are for real, but are they enough? More than just Wei, Hillis and Ma also had productive debuts. Hillis started out by beating Victor Cheng (projected MIT #3-4), before pushing Grodecki to two tight sets. Ma pushed Lubo in the first round, but made the quarters of the doubles draw with Bessette. Good results from all three guys, but Bessette and Kaplan both lost 1st round against opponents projected to play low in the Midd and Williams lineup respectively. The freshmen can only do so much. Amherst has finally updated its roster, and Fung and Owens are still on it, but their absence is troubling. Herst will need more than just their three freshmen to accomplish what they want in the spring.
Grade: B. Solid doubles results and plenty to build from from the freshmen. They should be deep, but a team with multiple freshmen towards the top of the lineup is likely to cause concern. The health and well-being of Fung and Owens plays a huge role moving forwards.
TUFTS (National Ranking: 17, Regional Ranking: 6)
Highlight: Young Boris! The Russian freshman took down Grant Urken (projected Bowdoin #1-2) in the 2nd round of the tournament, and pushed Grodecki (the eventual champion) to 5&6 with the second-set breaker ending at 9-7. BG only played one tougher match (by score) in the entire tournament, when he took down his teammate, Lil Barr, in the semis. Overall a very positive result for Boris who lost in the 2nd round of the Middlebury Tournament the weekend before to Xiao (Midd freshman who didn't play at ITAs).
Takeaway: Tufts is solid, but there is work to be done. The doubles went a combined 1-3, yet they were against tough opponents and the one doubles win was over the #4 seed. Battle coming back with a win in both draw should make you feel good. No Gupte should make you feel better about the overall mediocrity of the results, but I also worry about the senior as he's missed time for injury more than once in the past.
Grade: B-. Plenty of positives to take away along with plenty of things to work on. No Gupte means a slightly inflated grade. We know Tufts is fairly deep, even if we don't know who will be starting at the bottom of the lineup this year, but a lot will rely on Gupte and Ali at the top of the lineup, and we haven't seen all that much from either one yet this fall.
BATES (National Ranking: 19, Regional Ranking: 7)
Highlight: The team of Josh Quijano and Nick Glover. When you win your team's lone match of the tournament, you are the highlight. Bates' projected #2 team (although who knows if the teams will stay together at this point) got an easy win over a Nichols team in the 1st round before falling to Bessette/Ma in the 2nd round.
Takeaway: Who will step up? I have no doubt in my mind that Rosen will bounce back. We've seen the kid win year after year and he had a good tournament at Middlebury the week before the tournament. That being said, Bates lost three or four starters last year, and that can take it's toll. My takeaway from the past two weekends is that I don't yet know who will step up for the Bobcats this year. If Bates wants to make NESCACs for the second year in a row, somebody will have to step up. There is potential for that person to be a number of different guys: Quijano, Yadav, Glover, Eisenberg, or Kauppila, but at least one, and probably two of those guys are going to have to step up in the middle of the lineup for Bates this spring.
Grade: C. As I said, I'm not worried about Rosen at all, but when you win a total of one match it's tough to get a good grade. Eisenberg and Quijano had tough draws with both matching up against top-eight seeds, and Eisenberg pushing Barr to three sets is encouraging. The doubles doesn't appear to be as strong as years past, but we know it's something Coach Gastonguay does extremely well so I'm not panicking just yet.
MIT (National Ranking: 21, Regional Ranking: 9)
Highlight: As one of our beloved bloggers once noted Sean Ko trusts the process. The highly touted recruit has been a good player over the past two years, but given the enormous expectations placed on him still has a little more work to do. Making the Sweet 16 at the toughest ITA in the country is a good start. He also pushed De Quant in two tight sets with a quarterfinal berth on the line. Here's hoping that the process also trusts Sean Ko, and the junior will get after it this spring.
Takeaway: This team could be really good, but it might not be this year. Ok, so this takeaway isn't all that new, but all the ITA performance did for me was solidify the fact that while MIT has a lot of potential, they still seem to be a step or two away. Before you think I'm sippin' on D3AS' MIT Hatorade, I recognize that the Engineers have no starting seniors this year, and that Cauneac was out/abroad for the tournament. There were plenty of promising results from the weekend, but MIT is now at the point where promising won't continue to cut it come springtime.
Grade: B-. The singles left something to be desired, but the doubles keep this grade in the positive range (even if the MIT students might not think so). MIT had a good #1 team last year, but has struggled with doubles depth for a long time. Both the MIT teams got wins in the doubles draw, with the team of Barr and Zhao (freshman) making the quarterfinals. As I said earlier, solid but work to be done.
D3REGIONAL TERRITORY!!!!!!!!!!
BRANDEIS (National Ranking: 20, Regional Ranking: 8): B+
As a team that was hit hard by graduation (losing their top 3 singles players), Brandeis has been looking pretty solid this fall, especially on the doubles court. Doubles is something that has been historically tricky for the Judges to master, but if this fall is any indication, they should at least have one very strong doubles team. After sophomore David Aizenberg and freshman Anupreeth Coramutla made the finals of the Midd Invite A doubles flight, Coramutla teamed up with junior Jackson Kogan to make the semis of ITAs. The duo took out Steven Chen / Win Smith from Wesleyan, Nathan Kaplan / Sean Wei from Amherst, and finally Tyler Barr / Michael Zhao from MIT. They fell in the semis to Noah Farrell / Peter Martin from Midd, but this was still a great run. In other Judges news, Coramutla won a round in singles (falling to Farrell in round 2), as well as Jackson Kogan (falling to Kyle Schlanger in round 2).
COLBY (National Ranking: 33, Regional Ranking: 12): B
Another team that was hit hard by the graduation bug was Colby. They only had two singles players and one doubles team in the draw, though I must say I am encouraged by their singles results. Scott Altmeyer, a second-year player for the Mules, had a solid first round win over Brandon Rosenbluth, a strong player for Babson, before falling to #7 seed Luke Tercek of Bowdoin. First-year Sumukh Pathi also had two good wins, taking out Kyle Scheffers from Trinity and then impressively taking out Tyler Barr from MIT, winning the first set in a breaker before Barr retired. Pathi taking out Barr eliminated the Barr v. Barr showdown, which the bloggers were head over heels excited about. I won't bring the puns we came up with into the light of day, but let me just say they were some of the best I've seen, Barr none. In doubles, Pathi and senior blog favorite Shaw Speer fell first round to #2 seeds Taylor / Grodecki from Williams, certainly a difficult first round matchup. Overall, given the opportunities they had in this tournament, I'm encouraged by Colby's singles play, and definitely look forward to seeing more of their guys competing at the Wallach in a few weeks.
BABSON (National Ranking: NR, Regional Ranking: 20): B-.
#GoBabo is a young team that is certainly capable of pulling some upsets this year, but they only won one match in four entries (2 singles, 2 doubles) in this year's ITA. The lone winner was freshman Andre Libnic, who took out Bowdoin freshman Justin Wang, a very solid win. Libnic then fell 1 and 0 to the younger Raghavan brother, Anath, in the second round. Junior Brandon Rosenbluth, who has been playing well, lost first round to Altmeyer of Colby. The Beavers lost two doubles decisions, with Rosenbluth and Roque falling to an Amherst team (where Babo was actually seeded #6 after their great year last year, before De Mendiola was withdrawn due to injury) and Chris Kolesnik / Libnic falling to the Brandeis #2 team. I gave Babo the B- thanks to Libnic's good win, but the Beavers could have gotten more, as two of the teams they lost to, Colby and Brandeis, will certainly be in their sights this season. (NE NOTE: Shoutout to @BabsonTennis. If you're still following @BaboMensTennis, tryout the newer handle instead!)
Other notable results:
Rex Glickman (Trinity CT): Had a nice first round win over Vid Yadav of Bates before falling to Sachin Raghavan of Williams in round 2.
Jorge Aguirre Martinez (Wheaton MA): The sophomore from Spain had a first round win over Guilherme Barbosa of Nichols before falling to Sean Ko of MIT.
And with that, we're out! As D3Regional alluded to in his Colby recap we're excited for the Wallach (Bates Tournament) in a couple weeks, but before we get that, we have the MIT Invitational and Small College Nationals (The Oracle Cup or whatever it's name is this year). Check back through the upcoming weeks for more ITA recaps (D3AS said he'd get his done by Tuesday), and the first POWER RANKINGS of the fall will come out on Thursday. Happy reading.