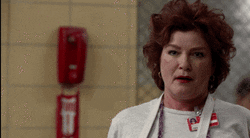 Well Hello Boys and Girls! Yes I'm back. NEW here giving you a New England fall season recap after a very long hiatus. I took a little break from writing but I'm back, and glad to have my buddy ASW here this year as well. I'm hoping that in time there will be writers for our two other regions as well, but here I go with a recap of some of the fall tournaments that took place:
1. The MIT Invitational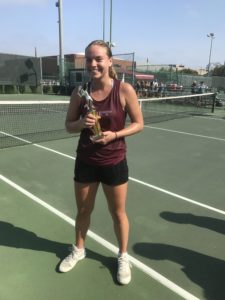 Fast Facts:
Participating teams: #7 Tufts, #8 Wesleyan, #14 Amherst, #22 MIT
Singles Champion: Libby Rickeman, MIT #2
Doubles Champion: Eudice Chong/Victoria Yu, Wesleyan #1
Complete Results
So this was a nice little tournament to kick off the season. Overall, it looked like Amherst made a strong showing at this tournament, having finalists in both main draws and both consolation draws, but it was Rickeman of MIT who took the main draw singles and Eudice/Yu of Wesleyan who took the main draw doubles. While it was no surprise that the Wesleyan duo took home the hardware in doubles (they lost a total of 6 games in the entire tournament), it was a surprise that unseeded freshman Libby Rickeman took the singles title without dropping a set. Eudice did not play in the singles draw but this was still an extremely strong field and this tournament bodes well for the two lower ranked teams in the draw – Amherst and MIT.
Camille Smukler of Amherst had a good run to the finals, as she did not drop a set until her finals match vs Rickeman. Ip/Chen from Amherst also had a great run to the doubles finals – great to see that Vickie Ip is back for her senior year.
Overall, the tournament was surprisingly balanced, with all 4 teams represented in the singles main draw semifinals and 3 of 4 teams represented in the doubles main draw semifinals.
2. The Lindsay Morehouse Invitational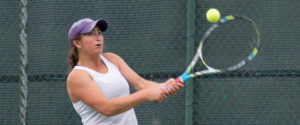 Fast Facts:
Looked to be a 'hidden duals' format.
Participating teams: #1 Williams, #4 Middlebury, #20 Skidmore, #32 Wellesley
Complete results
It looked like this was a great chance for the coaches to try out some doubles pairings and also to throw out some initial singles lineups in this 'hidden duals' format. The two matchups that were most interesting were the Williams vs Middlebury matchup and the Wellesley vs Skidmore matchup. Williams took 3 of 4 doubles matches from Middlebury and then went on to take four of the six singles, but four of those singles matches went into a match tiebreaker. In the Wellesley vs Skidmore matchup, Wellesley took two of the three doubles matches and then went on to split the singles. I'm a bit pleasantly surprised for Wellesley, as Skidmore would go on to give Bowdoin a pretty good run for their money later on in their dual match.
3. ITA Regional Tournament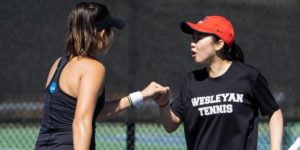 Fast Facts:
Singles Champion: Eudice Chong, Wesleyan #1
Doubles Champion: Eudice Chong/Victoria Yu, Wesleyan #1
Singles Results
Doubles Results
This region's ITA is arguably the strongest in the nation, with not-arguably the strongest player in the nation in the field (you know who). Here is a look at how the Round of 16 looked:
Williams – 5 players
Middlebury – 3 players
Wesleyan – 2 players
MIT – 2 players
Bowdoin – 1 player
Tufts – 1 player
Amherst – 1 player
Babson – 1 player
As we got to the semifinals, we were down to:
Eudice (Wesleyan #1) v Raventos (Williams #1)
Smukler (Amherst #1) v Bush (Williams #3-#4)
Smukler had another great tournament run to the finals, where she went down to Eudice 6-1, 6-0.
In doubles, our quarterfinal scenario looked like this:
Williams – 2 teams
Amherst – 2 teams
Wesleyan – 1 team
Bowdoin – 1 team
Middlebury – 1 team
Babson – 1 team
It came down to Eudice/Yu vs Raventos/Cancio in the finals, and the Wesleyan duo came out with their second tournament win of the season with a 6-2, 7-6(5) win in the finals.
In the end, Eudice dominated this ITA Regional tournament, but there were many great matchups that were played.
4. The Bowdoin Invitational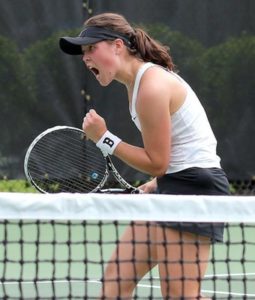 Fast Facts:
Participating teams: #5 Bowdoin, #7 Tufts, #20 Skidmore, #32 Wellesley, Bates
Not a tournament but a bunch of singles and doubles matches
Complete Results
There were many matches played but here are the ones that were of interest:
Trinka (Bowdoin #1) def Karamercan (Tufts #1) 7-6, 6-3
Karamercan def Wiggins (Skidmore #1) 6-1, 6-3
Louks (Tufts #2) def Wiggins 7-5, 6-3
Trinka/Essi def Karamercan/Louks 8-5
Karamercan/Louks def Wiggins/Fuca 8-3
Trinka/Bercovitch def Wiggins/Fuca 8-6
It looked to be that Trinka was the overall singles winner. A bit harder to say who was the overall doubles winner, as Bowdoin switched up their top doubles teams. And it looks like Tufts is going back to Karamercan/Louks as their top doubles team.
5. NEWITT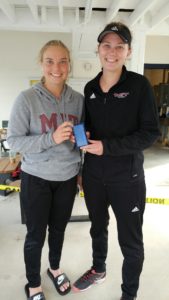 Fast Facts:
Participating teams: #8 Wesleyan, #14 Amherst, #21 Brandeis, #22 MIT, Babson, Colby, Trinity, and a few other teams
Champion: Elysa Kohrs/Libby Rickeman, MIT
Complete Results: Had to go to multiple teams' websites to get an idea of what went on. There looked to be multiple draws but I mostly looked at the A Draw.
This is a very unique tournament in which teams of 2 players play 1 singles match each and a doubles match together and the winners of 2 of those 3 matches advance in the draw. With the dynamic duo from Wesleyan off to play at the ITA Small College National Championships, the draw was wide open and we saw some familiar faces in the final, as the pair of Camille Smukler/Maddie Dewire from Amherst and the pair of Elysa Kohrs/Libby Rickeman from MIT faced off in the A draw. MIT swept all 3 matches, including a strong performance from Kohrs over Smukler 6-1, 6-1. Good to see Kohrs back playing as well.
6. Some dual matches of note:


#1 Williams def #14 Amherst 7-2
Williams took a strong win over a tough Amherst team but the result of the match is at #1 singles, with Camille Smukler taking a straight set match from Juli Raventos, 7-6, 6-2. No sophomore slump for Smukler!
#5 Bowdoin def #20 Skidmore 6-3
Skidmore took a 2-1 lead after doubles but Bowdoin took care of business in the singles by taking 5 of the 6 matches. Bowdoin looks a little vulnerable early on, but still a long way to go until May.
Well, there you have it! We've had some exciting tournament results this fall and I'm looking forward to some very close dual matches this coming spring. It looks like Williams and Middlebury are the top two teams in the region, but from there, the opportunities are pretty wide open for several of the teams. There are a couple of teams surging, while some are rebuilding, and it will be interesting to see who will be playing well when it counts. There are a number of freshmen who can make a big impact on their teams, as well as a good number of seniors who can carry their team when it matters. I welcome any of your thoughts and predictions in the comments section below!