tl;dr
Gustavus showed that they may be the deepest singles teams in the region after U Chicago. M. Alhouni won his third ITA singles title. Alhouni and Whaling won the doubles title.
Alhouni (GAC) def. Ekstein (GAC) 6-2, 6-0
Alhouni & Whaling (GAC) def. Anderson & Ackert (Coe) 6-4,6-4
Here's a link to the results of this past weekend: https://gustavus.edu/athletics/mt/2017ITA/index.php
Before we talk about the clinic Gusatvus put on this weekend, let's look at some of the other school's performances: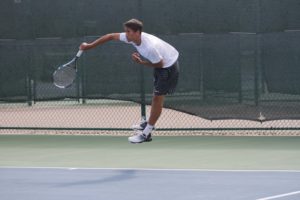 Though not as startling as the Wash U-less QFs in Kzoo, it is noteworthy to point out that neither top 8 seed Thompson (5) or Navratil (7) were able to hold their seed and make the quarters making it the second consecutive year that UWW was unable to place a man into the quarterfinals at ITAs. It's too early to sound the alarms on a season that doesn't begin for a couple months (Depauw takes a deep breath) but this isn't a comforting sign for the Warhawks looking to improve on last year's less than stellar campaign.  Now that ITAs are past them, it's time for UWW to look forward. They have one of the earliest starts in the region beginning with a double header at the end of July. Their schedule affords them many opportunities to prove the naysayers wrong with matches against: GAC, a very positive Carleton team which I'll touch on next, Kzoo, Wash U, U Chicago, and Coe.
Carleton College had one of their most successful ITAs in recent memory fueled by a combination of youth and experience. While they had multiple players hold up their seed and win a couple rounds, the highlight of the Knight's weekend has to be their much improved doubles play. They had two teams in the quarters and the freshman and junior tandem of Vithoontien & O'Kelly made it all the way to the semis where they lost to the eventual champions. With the emergence of Vithoontien as a top player for Carleton combined with O'Kelly, Goodman, and Mei helping to solidify the rest of their lineup look for Carleton to make some noise in the central this upcoming season and improve on their regional rank. It all begins February 10th in Des Moines vs. the Kohawks.
Coe showed that were the second most complete team this weekend, and starts with their 1: Brady Anderson. Anderson, Ackert, and Pudlo all made the Rd of 16 before running into their respective GAC endings. Unfortunate for the Kohawks and the man himself, Jake Kudrick, their best freshman, suffered a wrist injury in the third set of his match with Michael O'Neil (GAC). My vote for the weirdest stat of the weekend was brought up by D3Tree:
Despite the injury, Coe looked solid up and down the lineup with their showings in singles and doubles. In the round of 16, the man with the visor:  Nate Ackert upset the three seed: 7-6, 0-6, 7-5, but the best match of the tournament according to *sources* was between GAC's Patrick Whaling and Coe's Brady Anderson in the quarterfinals. It took all of Brady to prevent an all GAC semifinal slate. Anderson dropped the first set 7-5, before flipping the script for a 6-4 win in the second. He then trailed 5-2 in the third before mounting a massive comeback and closing the 7 seed who beat him last year: 5-7,6-4,7-6. The 128 man draw showed its claws and helped Ekstein defeat an exhausted Anderson in the semis. Coe starts up in the first week of February and will ease their way into the season before warming for their first big test (The U Chicago 18 match dual-match) with a dangerous Carleton team. Coe has won their last two dual matches against Carleton 7-2, but I think this match has the billing to be barnburner out in the Midwest, especially at 1 between Anderson and Vithoontien.
A quick shoutout to the Ukranian sensation out of College of St. Scholastica: Serhii Tykonenko of Lyceum 1 HUNNID. He was able to break up the Coe – GAC Dual Match of a quarterfinals by backing up his 2016 first round upset of Z. Navratil. This team went 20-1 with eight 5-4 matches (One loss on the year was 4-5 to Luther), so another quick shoutout the coach out at CSS for exceptional scheduling because 5-4 matches, either way, are an amazing tool for a team trying to grow and improve. Look for CSS to continue their trajectory and improve on their 20 in the region finish.
GAC placed five players in the quarterfinals: Alhouni, Ekstein, Whaling, Johnson, and Derbani. Three of them made the semifinals: Alhouni, Ekstein, and Johnson, and in the final, as I predicted ¯\_(ツ)_/¯, Alhouni defeated his teammate Zach Ekstein for his third consecutive ITA Regional Championship. Alhouni and Whaling made up for their loss to the boisterous combo of Beck & Elifson in 2016 by running through the tournament (except for a tight 9-7 win over Carleton's  Vithoontien & O'Kelly). Gustavus was also successful on the doubles court outside of the eventual champions and placed six doubles teams in the round of 16. All in all, pretty solid weekend for the Gusties.
Mohanad Alhouni's Road to the Double Decker Crown of St. Peter, Minnesota:
Singles:
Round of 128: Mohanad Alhouni def. Jackson Lewton (Central College- 7.05): 6-0, 6-0
Round of 64: Mohanad Alhouni def. Danny Schoen (UW-Eau Claire #3 – 10.13):
6-0, 6-2
Round of 32: Mohanad Alhouni def. #17 Kevin Mei (Carleton #1/2 – 10.38):  6-1, 6-0
Round of 16: Mohanad Alhouni def. #13 Josh Pudlo (Coe #4 – 10.78 ): 6-3, 6-1
Quarterfinals: Mohanad Alhouni def. #16 Yassine Derbani (GAC #6 – 11.39): 6-1, 6-2
Semifinals: Mohanad Alhouni def. #11 Chase Johsnon (GAC #5 – 11.24): 1-6, 6-1, 6-1
Finals: Mohanad Alhouni def. #4 Zach Ekstein (GAC #2 – 11.59): 6-2, 6-0
Alhouni dropped a remarkable ten games en route to the semifinals. Aside from dropping the first set to teammate Chase Johnson in the semifinals, Alhouni did not have a set closer than 6-3 on weekend. This is what a dominant ITA singles weekend looks like, and his efficient performances definitely aided in his ability to be fresh for his and Patrick's doubles run. GAC showed off their depth this tournament, and that was highlighted in the end of Alhouni's run where he had to take out three teammates consecutively. No need to wonder who the top dog is in St. Peter. My only question for Georgia is whether the fact that Alhouni wasn't really tested throughout the tournament will hurt him in the inevitably close matches of the All-Americans.
Quick Answer: nah – Alhouni's played tight matches before and is experienced enough on the national stage to prefer freshness over more close match experience.
Doubles: *singles UTRs used
Round of 64: Mohanad Alhouni & Patrick Whaling def. Nate Greinder & Jake Kudrick (Coe):  w/o (Remember Kudrick hurt his wrist in the third set of his match with Michael O'Neil in the Rd of 128)
Round of 32: Mohanad Alhouni & Patrick Whaling def. Charlie Harris (9.15) & Kevin Murphy (8.46) (Loras College): 8-2
Round of 16: Mohanad Alhouni & Patrick Whaling def. #9 Brandon Dechter (10.67) & Matt Zurowski (10.25) (UWW): 8-2
Quarterfinals: Mohanad Alhouni & Patrick Whaling def. Matt Riley (10.19) & Alex Alt (unrated) (UW-Lacrosse): 8-4
Semifinals: Mohanad Alhouni & Patrick Whaling def. #9 Leo Vithoontien (11.65) & Jordon O'Kelly (10.57) (Carleton): 9-7
Finals: Mohanad Alhouni & Patrick Whaling def. #9 Brady Anderson & Nate Ackert: 6-4, 6-4
Mohanad "24K Magic" Alhouni joined JT "all I do is" Wynne (Skidmore), Jeremy "Chicago Freshman X" Yuan (Chicago), and Arthur Oenning
Fagundes as the only double winners at their respective ITAs.
With both GAC and U Chicago dominating their regional ITAs again, maybe it's time to introduce a little chaos to ITAs.
Here are two ideas on how to revamp the ITA Regional System in a perfectly funded world*:
Idea: ITA Regionals x ITA Indoors
Regional ITAs are so passé, so I propose that we try an ITA Kick Off Weekend that turns into the draw for Indoors like D1 does. Logistically this poses a lot of issues, but let's start with what this could look like in our perfect world:
ITA Kickoff Weekend allows for 60 teams to participate at 15 different locations, indoors and out. Despite the difference in regional wealth, we will take the top 15 teams from each of our four regions as competitors. Of these 60,  the top fifteen teams (that would like to participate and host) according to the year end team rankings from the previous year will be designated as hosting sites.
Now the fun begins. The fifteen host sites will be posted on the ITA site, and then drafting will be done in accordance with the traditional d1 rules. (http://www.itatennis.com/Assets/Kick-Off+Weekend/2018+KOW+Draft+Procedures.pdf)
Paraphrased: The highest ranked non host will have their choice to travel* to whichever host site they would like, as long as there are no top 8 seeds within the same region. This continues until all the sites are filled, which would lend itself to some new matchups and interactions we don't normally get to see.
The pairings for the regions will be: 1 vs. 4, 2 vs. 3 depending on year-end rankings, and the winners of each region would then convene for the NEW Super ITA Team Indoor Championships (the 16th team would be the host and they receive an automatic invitation to the tournament).
*let's assume that d3 tennis got a major grant from Southwest and all the travel expenses are subsidized…woo!
Idea: Settlers of Regional ITAs 
While each team is given a limit of how many players may compete at ITAs, they aren't given the opportunity to choose which regional ITA they go to unless they're equidistant to multiple ITAs.
Let's give some more power to the teams. In this system, each team is still given their limit of singles players and doubles teams, but may not choose how many to send to each ITA Regional. For instance, U Chicago may want to maximize their All-America statuses, GAC may want to limit the amount of times teammates have to play teammates, or a coach may just be looking for a change of ITA scenery and wants their players to see new faces. No matter the reasoning, it would introduce a new level of strategy and bring forth new matchups we don't normally get to see: a common theme in these pipe dream plots.
That's it from Minnesota also Congratulations to Jeremy Yuan for winning his ITA over E. Kerrigan in three sets.
Lastly, shoutout to GAC and their photographers for the high quality photos from ITAs.
Tweet at me(@newd3Central), email me(newd3central@gmail.com), or comment with any questions, concerns, or opinions on GAC's ITA or these ideas on how to make ITA weekend a little more chaotic.
-newD3Central.