Though the fall season is a relatively quick one for the players out West, I see it as one of the most grueling weekends of the year. There aren't many times in the spring where you'll play up to 10 matches (singles and doubles) in one weekend, so huge props to those who played an insane amount of tennis this fall in hopes of making it to Nationals. The fall tournament gives us bloggers some insight into how the teams fare and which players really devoted themselves to improving over the summer. So let's take a gander at some of the West regional winners and what these results mean looking forward!
Also, a big congratulations to all the Regional winners, and especially Al-Houni who took the Ship. Of course I have a little bias towards my winners in the West region so let's take a closer look at all of the winners and how they fared in Nationals!
Chase Lipscomb (Redlands): In a draw packed with dark horses, an onslaught of talent coming from CMS, and some dangerous PP freshmen/transfers, Chase was able to play inspiring tennis all weekend. A fifth place finish at Nationals isn't too shabby (with grueling wins over Fagundes and
Yuan of Chicago) and we have to think Chase and the Bulldogs as a whole are excited and eager to have their #1 star playing well. A streaky game and some questionable losses throughout the previous years has plagued Chase, but it seems that he found his groove this fall and we hope he can maintain his play once the spring comes around.
Niko Parodi/Jake Berber (CMS): I knew this duo had the firepower to kill it in Regionals. Yes, I predicted this team to win their region, however, mildly disappointed in their eighth place finish at Nationals. Regardless, making it that far is a feat and we have to believe who made it to the finals of their Region. When either of these two doubles teams heat up, look for each of them to be a stable doubles point (which is 1 more than last year!). Going down 1-2 into singles for the Stags…. That's cake.
Spencer Watanabe (George Fox): I'm happy to see Big Spence playing well this fall. George Fox has an extremely bright future, and with Spencer's leadership and skill at the top of the lineup, the Bruins can make some noise this spring. Watanabe has the talent to be one of the best players in the country and he proved that this fall yet again. Though he didn't come through in the Wildcard match against Fagundes, he still had an amazing fall and he'll surely lead a highly anticipated George Fox team this spring.
Zach Hewlin/Robert Carter (Whitman): Hewlin and Carter played some fantastic doubles on their way to finishing third in the nation this fall. They rolled through their Region with relative ease and put on a performance in taking out Fagundes/Gomez in the wildcard match. Though they took out the first seeds in the first round in a third set TB, a tough loss to the eventual champions placed them in the third/fourth playoff where they beat the Skidmore team of Wynne/Koulouris. A great fall season and excited to watch this dominate this coming spring.
Arthur Fagundes (Texas Tyler): One of the more impressive fall campaigns came from Fagundes, who I'm pretty sure lost about 6 games in 5 matches in Texas. A clutch performance over Watanabe secured him a spot in Nationals. Though he finished eighth in Georgia, the Texas Tyler squad must be very happy and excited that their top player is in good form.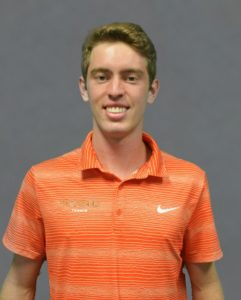 Arthur Fagundes/Pablo Gomez (Texas Tyler): Congratulations to this Tyler team for killing it in their Regional tournament. Though they lost their Wildcard match to Whitman, this team will surely play this coming spring and deliver needed doubles points. Fagundes has tons of talent and with the right partner in Gomez, this dangerous team can make some noise when it comes to vying for a regional title this spring.
Some Burning Questions:
Do any West Region teams have a chance to beat CMS and make a run to the quarter finals of Nationals?
If we learned something about this fall campaign out in Claremont, it is that CMS might be a tad more vulnerable than in previous years. Purely based on results, though they did have two players in the Semis (Katzman and Vemuri), no Stag made the final which hasn't happened in some time. With wishy-washy singles results, their doubles performance far exceeded expectation where Gordy/Burney made a run to the finals eventually losing to teammates Parodi/Berber. I'm not going to look too deep into Parodi's second round loss since we all know how this kid's talent shines in the spring, but a very surprising result nonetheless. l I still think CMS is a bit too deep for any West region team to take them down, however, the Stags may not have the firepower we've seen in previous years.
Can George Fox take down the likes of Lewis and Clark and Whitman to win the NWC region?
Both Lewis and Clark and Whitman are tough teams, but based on this fall's results, George Fox is entering the conversation when we look at the top dogs in the NWC. We all know Watanabe is a great player who will lead the team at #1, but with the addition of Leach, the Bruins could make some headway in winning the conference. I still believe both L&C and Whitman have a much deeper roster than George Fox, but a dynamic duo at #1 and #2, along with a couple fiery doubles teams, may cause some headaches when it comes to conference play.
Freshman alert! Which Freshman's run to the finals of their Regional tournament was more impressive: Will Leach (George Fox) or Jed Kronenberg (PP)?
Both of these talented Freshmen had similar performances in their respective regional. They each won a handful of tough matches and even more impressive, they each took out the top seeds! Leach, in my opinion, was a bit more of a cinderella story (being the unseeded player that took out two time champion in Hewlin along with Rapoport and Foster), but the way J-Kro took down Katzman of CMS in the semis was ultra impressive. We knew their Freshman colors would shine as they were both outplayed in the finals, but a round of applause to each on a great start to their collegiate career. I look forward to following each of them throughout this coming year as I feel like they'll both step in and play key roles in the overall success of their team.
Usually a perennial top 15 team, should we be concerned about Trinity (TX)'s lackluster fall performance?
No doubles team in the third round (first seeds Tyer/Lambeth falling in second round) and only one singles player in quarterfinals (Hamilton) was definitely not the result the Tigers were looking for. Texas-Tyler had a more outstanding performance when comparing the two teams, and though this fall was a major hiccup for Trinity (TX), I still believe they'll pick up the pieces and contend in Nationals this coming spring. This team is simply too talented and when their doubles are firing on all cylinders, they are a dangerous out. I wouldn't be too worried about the Regional, but nevertheless, a disappointing fall on all fronts.
Is Pomona-Pitzer a better team than last year based on their fall results?
The Sagehens lost five key players last year including Yasgoor at #1, Maassen at #2, and Simonides/Bello at #1 doubles. Big shoes to fill to say the least. This fall regional was going to be a great indication in whether the Hens would be able to fill the shoes of the seniors and they surely did. J-Kro, the talented Freshman, was able to make a run to the finals, Bellet reached the round of 16, and Schoenherr made a run as well before losing to J-Kro. Overall, a great singles performance, but a tad skeptical about their doubles results. No Sagehen doubles team was able to make a run and if they want to compete with the likes of CMS and Redlands this year, they have to get their doubles figured out! Now are they better than last year? PP is looking at an entirely different team with 8 freshmen. It might take a couple years for these young guns to adjust, but for now, it surely looks like Bickham brought in enough talent to replace the departed seniors. We'll have to see…
Should we be concerned that both Fagundes and Berber/Parodi finished 8th in Nationals?
Winning your Regional and clinching a spot in Nationals is a feat in of itself, however, no one wants to finish in that eighth spot. I don't think there should be too much reading into over the fact that Fagundes and Berber/Parodi went a combined 0-6 in Nationals. Every player in Nationals, whether it be singles or doubles, is very talented and is there for a reason. Unfortunately, someone will come out winless, and the fact that they were both West teams doesn't take away from their overall fall performance.
Not much has been said about UC Santa Cruz…what can we expect from the Slugs this coming year?
Purely looking at their Regional results, UCSC should feel very optimistic about their upcoming season. They have seasoned players in Stone, Dugan, and Le Duff, but what will propel this team to new heights is the addition of Ibh (IB? EEB? AYB? EB?). Anyways, I think there is a lot of upside and potential for this team this year. Ibh was able to make a quarterfinal run before falling to Kronenberg so we know this first year can keep up with the big boys. We also know the Slugs can play some great doubles and with Stone/Dugan at #1, along with Le Duff and Ibh floating in the doubles and singles lineups, expect this team to outperform their results in previous years.
Which SCAC team can take down the favorites in Trinity (TX) and win their region?
With talented players in Dulthummon and Dimanche, along with the addition of Baskerville, and a talented doubles player in Gideon, Southwestern could be a tough out for the Tigers. All the pieces are there for Coach Porter to really make moves and take a conference title. Especially with the poor fall results coming from Trinity (TX), it must give a team like Southwestern hope and optimism that they could take out the perennial top 15 team. They may have lost to Trinity (TX) twice last year (one time being in the SCAC final), but I believe the Pirates will give the Tigers a run for their money this year.
Which ASC team can take down the favorites in Texas Tyler and win their region?
Texas Dallas may have lost their top player in Duarte, but their results this fall, amidst a Texas Tyler beatdown of an ITA, was second best. They return Jelev and Hernandez, but also add two talented Freshmen in De Luna and Petluru. Texas Tyler may be a tough team to take down this year, but Texas Dallas may have a longshot at disrupting the status quo.
Which SCIAC team can take down the favorites in CMS and win their region?
This is a toss up between Redlands and Pomona-Pitzer. Both teams looked really deep this Fall with Lipscomb winning the whole thing and J-Kro falling in the finals. Besides each of these two players, Dulle, Johnson and Krimbill for Redlands and Bellet, Schoenherr, Gearou, and Mandic for PP could maybe disrupt the dynasty that is CMS. Of course the ball is in the Stags court and it would really take something special from the Bulldogs and/or the Sagehens to take out the SCIAC kings. The Stags did look more vulnerable than usual this fall but we can't read between the lines too much as we know they always catch fire once the spring rolls around.
Some Notable Moments:
In reference to the three regional tournaments out West and a good way to recap this article and the fall as a whole…
Biggest upset – Krimbill def Parodi
Biggest Cinderella story – Will Leach
Most impressive team – Texas Tyler (Honorable mention: George Fox)
Most impressive player – Chase Lipscomb
Freshman to watch – Jed Kronenberg
Best match- Leach def Hewlin
Following the results this fall got me super pumped for this coming spring! I'm sure lucky to be a blogger is all I can say (p.s. I already added this "job" to my Linkedin experience).. Folks, that's all I got! Some great results overall and really looking forward to it all playing out in the spring. Keep your eyes open for some pre-season previews of all the teams from all your fave bloggers!