We have officially kicked off the 2018 season and things are looking very interesting on all fronts! On the West Coast, we had Hunt of Hardin Simmons take out the Roger Federer of Texas (Fagundes)… a huge upset to kick off the season. Redlands is looking like an extremely solid team this season, Trinity(TX) had a couple blowout losses to Texas A&M-Corpus Christi, Pomona-Pitzer took care of business against Irvine Valley College and Occidental, and Whitman battled hard against a talented Boise St. team in a 5-2 loss. Not a whole lot to go off of and predictions are scarce this early in the season, but seems like the talent level on all the above teams is very high and we are all in for a great season of tennis.
It is time to talk about the Whitman Blues!! When it comes to lineup projections, well I'll cheat a little bit and just use the lineup they played against Boise St. Regardless, there is a lot to talk about with this team, especially considering they have three huge regional matches this weekend at their home courts in Walla Walla. I'll talk a little bit about each of their coming matches this weekend, where the Blues will play Redlands, Trinity(TX), and Lewis and Clark. So far, I have been very impressed with Whitman's results this season (playing Boise St. that close is a feat), but after this weekend, we'll quickly realize if Whitman has what it takes to be a top 10 team in the nation this year. A lot to look forward to this weekend and tons of great matches coming your way from the Pacific Northwest!
Last Season Recap:
Whitman started their 2017 season with a bang! Despite a few losses to DI teams (Boise St., Seattle U., Univ of Idaho), they didn't lose to a DIII team until Stag Hen. Until Stag Hen, they went 14-0 against DIII competitors, however, STUFF hit the fan when they took a trip down south to Claremont, where they lost to Bowdoin and Case Western before beating Skidmore for a 7th place finish in the heat of Cali. A tough loss to Trinity(TX) later in the season in Texas was a hard pill to swallow for the Blues, however, they were able to win their conference title once again in beating Lewis and Clark in the finals. As a conference winner, that sent them to regionals in Claremont as a pool-a bid, where they faced Trinity(TX) once again. A disappointing loss here where the match wasn't even all that close, however, we know the Blues have long forgotten about that match and plan on taking out their revenge against the Tigers this coming weekend.
Coach: Jeff Northam, 17th season
Location: Walla Walla, WA
Preseason Ranking: 14
Blog Power Ranking: 13
Key Additions: Tom Chang (TRN 201, UTR 11.17), Andreas Mueller-Immergluck (TRN 297, UTR 11.34), Bear Lee (TRN 398, UTR 10.47)
Key Losses: Petar Jivkov (#2 singles, #2 doubles), Jake Hoeger (#1/2 doubles)
Lineup Analysis:
#1. Zach Hewlin, Senior, UTR 11.92
The obvious #1 for the Blues and has been at the top of the lineup since his freshman year. Hewlin has the goods to be on the best in the country and we saw his talent level in Kalamazoo a couple years back at Nationals. Last year was mildly disappointing as he wasn't deemed All-American for the first season in his college career, but expect Hewlin to come out firing this season and go out with a bang. He has already beat the Boise St. #1,
which is a massive win and will give him the needed confidence when he competes against the best of the best at the DIII level. A disappointing fall with a loss to Will Leach of George Fox, but I think that is behind him and he is looking forward to playing some inspiring tennis this spring! If the Blues want to make a run this season and finish somewhere between 6-9 in the national rankings, Hewlin will have to play his best tennis and be a consistent point for the Blues.
#2. Ben Kirsh, Sophomore, UTR 11.67
Not a whole lot to go off of for Kirsh, but heard he is a great player and it was unfortunate the Blues didn't have him last year. Doesn't matter because now they do! He battled with DeMulling of Boise St. losing 6-4 in the third, however, that is very promising for Kirsh and the Blues as DeMulling is a fantastic player and a match that close proves Kirsh can compete this high in the lineup with anybody. With Jivkov's departure last year, Kirsh should step in and provide some great results at this position. A Hewlin/Kirsh #1/2 combo is dangerous, look out for this duo to make some noise on a national scale.
#3. Daniel Foster, Sophomore, UTR 11.42
Foster had some good results last year at #5/6 in the singles lineup and brought in some points for the Blues at these positions. However, it seems Northam has moved him up to #3, which is a big jump from where he was last year. If Foster is able to play well and bring in some wins at this position, this will add a lot of depth to the Blues roster. We'll all see this weekend how he fares against other #3's and if this huge bump in the lineup from last year is too much for the sophomore.
#4. Gary Ho, Senior, UTR 11.65
Gary finished last year playing #5, but started the season at the #6 position. He had some solid wins against Fujitani (Trinity(TX)), Kanam (Case Western) and Patel (Bowdoin), which gave Whitman a lot of depth at the bottom of the lineup. He might be a little dude, but he is extremely scrappy and a tough out for anybody at this position. It's his senior year and I have no doubt he'll leave it all out on the court this spring!
#5. Chase Friedman, Senior, UTR 10.59
Chase is a clean ball striker and when he is able to play well can really make a large difference in tight matches. He had some big wins last year against Bello (Pomona-Pitzer) and Stroup (Case Western), but a few scattered losses against Vernier (Swarthmore), Wolfe (Bowdoin), Pitts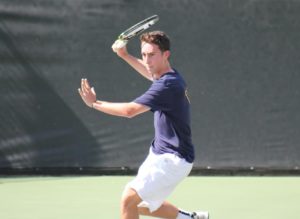 (Trinity(TX)), and Rodriguez (Texas Tyler) made me think that playing #3 last year was a couple spots too high for him. With that being said, I think he has the perfect game to do just fine at #5 and I expect Chase to end his college career with a fantastic record at this spot.
#6. Robert Carter, Senior, UTR 11.36
Carter has been a consistent starter for the Blues throughout his four years. He can play some inspiring doubles and it looks like he is paired with Hewlin for this season. His big game, including his huge serve and one-handed backhand, makes him a tough player at this spot. It is vital for Whitman's success that Carter, along with his two fellow seniors at #4 and #5, play some solid tennis as they'll all have four years of experience on their side.
Doubles Analysis:
Doubles will be key for the Blues this spring if they want to compete with the likes of Bowdoin and Amherst (both of which are scheduled this March). Based off their singles lineup, it seems like they can compete down the line with any team, however, in order for them to pull out those close matches against deep teams, they'll have to head into singles with a lead. Their #1 doubles team of Hewlin/Carter is a team that will surely make some noise; in fact they already did, winning their regional this fall and coming in 3rd at nationals. These seniors will need to play the brand of doubles we know they are capable of playing if they want to compete with each and every top doubles team. Hewlin's big ball along with Carter's keen sense of the doubles court will make them a tough team and I believe they'll pick up right where they left off last fall. It seems that Northam is playing with a few teams at #2 and #3; a combination of Ho/Kirsh, Foster/Friedman, Ho/Hwang, and Friedman/Chikkalingaiah will get the nod to play at these positions. They all have minor doubles experience, but being good players that play in the singles lineup will put them in positions to win a lot of these doubles sets. Again, if Hewlin/Carter can win consistently at #1 (which I think they will) and two solid teams are pulled together at the remaining two spots, watch for Whitman to have a strong doubles lineup paired with a deep singles squad.
Schedule Analysis:
Whitman starts their DIII schedule by hosting Redlands, Trinity(TX), and Lewis and Clark. These are all key matches and will give us all an indication at where each of the teams are at in terms of talent and depth. I expect Whitman to win all three of these matches, with their toughest test coming from Redlands. There isn't a whole lot that separates Redlands and Whitman, but a home court advantage in an indoor setting will give Whitman an advantage over the Bulldogs. A big win against Redlands will give them enough momentum to take out Trinity(TX) and Lewis and Clark at ease. But hey, these are three solid teams and anything could happen on any given day.
Whitman then has a few PNW matches against the likes of George Fox, Lewis and Clark for a second time, Pacific (Ore.), and Linfield; all matches I expect Whitman to take care of business in.  They then head down to Southern California and face Whittier, Amherst, Swarthmore, Bowdoin, and Sewanee. This is the time of year, usually, when Whitman struggles with the dry heat conditions. The last few years when they have competed in Stag Hen, they are usually the team that withers away first and cramps away matches. This Spring Break, the Blues head back down to sunny California to face 5 solid teams… let's hope this talented squad is in better shape than in previous years because they have a tough week ahead of them. During this CA trip, I expect Whitman to beat Whittier, Swarthmore, and Sewanee, with the two swing matches coming against Amherst and Bowdoin. If they are able win one of these two matches and leave their Spring Break trip 4-1, it'll not only be a success for Northam, but a national ranking boost.
SBWW (Spring Break Walla Walla):
Now let's talk about this coming weekend! Last year, Whitman was able to beat both Pomona-Pitzer and Gustavus during this tournament both at relative ease. I think they were able to find their best tennis in their home facility with a loud crowd and plenty of student supporters. Also, it is very tough for a California team to fly up to Walla Walla and face a talented Whitman team indoors; especially it being the first indoor match in quite some time for many of the CA natives. PP had that issue last year and I believe Redlands will have a similar conflict this year where they'll simply be outplayed in an indoor facility. Before I dive deeper, there is a rI'll dive deeper into each match below!!
Vs. Redlands
Very hard to predict these matches, especially the doubles, as we've seen very little from both teams so far. Mentioned above, I think Whitman will come out firing and take two out of the three doubles points. I believeHewlin (#1), Kirsh (#2), Friedman (#5), and Carter (#6) will win each of their singles matches and take out Redlands 6-3. Whitman: 6-3
Vs. Trinity(TX)
There is reason to believe that Trinity(TX) is weaker than in previous years. I won't listen to the haters quite yet, since I am well aware of the talent and poise McMindes brings in each and every year. Furthermore, this Texas team is known for playing some inspiring doubles. I don't know if they'll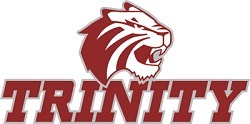 have enough depth and indoor experience to take out Whitman, but it definitely won't be as big of a blowout as some expect. I think Trinity will come out firing in doubles taking #1 and #2, heading into singles up 2-1. From there, I see Whitman taking five out of six singles matches (their lone loss maybe coming at #3 if Hamilton is slotted there), resulting in 6-3 Whitman win. Whitman: 6-3
Vs. Lewis and Clark
This match is huge for regional purposes, but obviously the result won't matter as much a when they will end up playing one another in their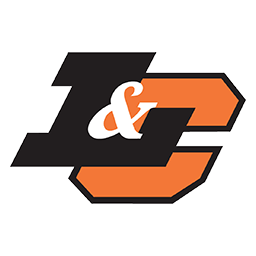 conference tournament. Regardless, this is a big opportunity for Lewis and Clark to make a statement in the NWC conference and assert themselvesas a team to beat in the PNW. For this particular match, I still believe Whitman is too deep of a team and will take care of the Pioneers on their home indoor courts. I see Whitman winning two out of three doubles points and sweeping singles (with a few third set TB's thrown in there too). Whitman: 8-1
Well, seems like I have Whitman going 3-0 over the SBWW weekend. Why? I don't know, I guess I have a lot of confidence in their depth and talent this year and heading up to their indoor facility is never easy for first-timers. Their match against Boise State impressed me quite a lot and I believe if they can replicate their play from that particular match, they'll be just fine against their opponents this coming weekend. I have a lot of confidence in Whitman this weekend, especially with 4 out of their starting 6 being seniors. In these situations where matches are important and every player is tough, it is extremely beneficial to have an experienced team with tons of matches under their belts.  
Best Case Scenario this Season:
The Blues' best case scenario this year is if they take care of business this weekend by beating Redlands, Trinity(TX), and Lewis and Clark. They then head down to CA where they are in tip-top shape and take out Bowdoin and Amherst, without being too tired and lethargic to beat Sewanee, Whittier, and Swarthmore. Bowdoin and Amherst may be huge matches for the Blues, but a loss against Sewanee, Whittier, or Swarthmore would be detrimental to their national ranking and could affect them when national conversation comes around. One could argue that those three matches (Sewanee, Swarthmore, and Whittier) are more important than the Amherst and Bowdoin matches. Regardless, if they can beat all five teams and head back up North to win their NWC conference yet again, that would place them into nationals with a pool-a bid and a ton of confidence heading into nationals. They would then probably have to face CMS in the Rd of 16 (and I won't make predictions that far into the year quite yet), but if they were to get to this point, it would be an incredible accomplishment for Northam and his team.
Worst Case Scenario this Season:
They lose to Redlands this weekend which would affect their national and regional ranking. They head down to CA for their spring break and are yet again affected by the extreme heat conditions. They aren't able to play their best game since they aren't in great shape and lose to Bowdoin, Amherst, and either Sewanee/Swarthmore. They head back up to the PNW going 2-3 or 1-4 on their CA road trip, where they are upset by Lewis and Clark and/or George Fox in the NWC conference tournament. Yes, this is the WORST case scenario. Do I see this happening? Naw.
Final Thoughts:
With a heavy senior lineup and a great coach in Northam, I believe the Blues will have their most successful year in quite some time. I mean what DIII team can travel to Southeast Asia and not come back inspired and ready to kick some a**.  It starts with this weekend and knocking out their regional opponents. I think Hewlin is going to have himself a year and finish his decorated career on a high note. I look forward to how they handle their trip down to California and if they are able to play their best tennis in an outdoor setting. We'll have to see!! That's about it for now, the season is officially off and running!!