Welcome to what could be my final season preview of the year. I say "could be," because since NewD3Central has been slacking so much that I might need to pick it up for him. When I'm being anything but the least responsible writer on the Blog, you know there might be something wrong. By the way, I can't tell you how disappointed I am for the Super Bowl this year. I don't think we could have picked two teams that I can't really stand more than the Patriots and the Eagles, so this weekend is already set up for failure. I'm just going to drown my sorrows away in cheap beer and lots of Thai Chili wings. Shoutout to BDubDubs. Anyways, I saved my favorite preview for last – the Mary Washington Eagles. Let's delve into what this season plans to bring for this always exciting team.
Overview
If there's one word to describe Mary Washington the past few years, I'd say that it'd be consistency. They consistently finish in the 20-30 range, sometimes in the high 20s, sometimes in the low 20s. The Eagles consistently beat the teams they are supposed to beat and fall short to the teams ranked ahead of them. It's fairly easy to predict the UMW season, and that makes for a fairly easy (yet not always that exciting) preview. Mary Washington has a history of playing solid doubles no matter who they throw out there. They also usually have a #1 singles player who steps up and makes nationals at the end of the year. When going up against the top ASouth teams, they are oftentimes beaten in the mid-bottom of the lineup, which is expected given the recruiting histories of the various schools in the ASouth. Let's see if this year is going to be any different.
Coach: Todd Helbing, 19th Year
Location: Fredericksburg, VA
Preseason Ranking: #29
Blog Power Ranking: #26
Twitter Handle: @UMWMensTennis, has updates sometimes when they feel like it
Twitter Hashtag: #HereWeGoWASH
Key Additions
Moses Hutchison (2-Star, #394), Cole Tecce (2 Star, #361)
Key Losses
Eric Hurwitz (#6 Singles, sometimes, sometimes doubles)
Lineup Analysis
#1 Singles, Matthew Miles, Senior, 11.57 UTR
Matt Miles is the man this year for the Eagles, and for good reason. Miles has made a career out of being a solid middle of the lineup player, but we started to see shades of a top dog in the beginning of last year's campaign. Miles got some experience under his belt at #1 last year and definitely had his struggles, but was able to notch a few wins against some solid opponents (Reed, Cerny). This year, Miles will be counted on much more if UMW is going to make some noise with an upset. He's started off the year in quiet fashion, but can't really say anything until spring season starts. Miles career trajectory is up and he seems like a hard-worker, so maybe we'll see a high quality season from the senior.
#2 Singles, Patrick Hughes, Senior, 11.63 UTR
Another success story of the Eagles is Patrick HUghes, who has evolved from a bottom of the lineup player to the best UTR on the team at 11.63. Mary Wash has really cemented their reputation for developing some lower lineup players into top of the lineup guys, and Miles/Hughes are great examples of that. Hughes has pretty much the same story as Miles – he was kind of thrown into the fire last year at a spot higher than he probably expected, and struggled a little bit. Now, with a year under his belt, we could be looking at a much more successful season. He started off this year with a close three set loss to Chaz Downing at ITAs, which bodes well for his competitiveness at the #2 spot (Downing currently slots at #2 for CMU). Miles and Hughes will be an interesting top combo to watch, as they are far from household names and not many will be expecting great things from the duo this year. Keep your eye out.
#3 Singles, Joseph Brown, Sophomore, 11.53 UTR
Look at these UTRs! UMW has put together a pretty decent top 3 based on the well known UTR ratings, and they should be able to escape most of their lower level matches with at least two wins from the top of their lineup. When playing against the best teams, however, Brown will be incredibly important given the fact he's slated to play lowest of UMW's top 3. Brown played all over the place last year, with some decent wins (Kang of Hopkins) and some not so great losses (Arora of CMU, Trang of CNU). Brown is really going to need to come into his own if he's going to have success at this spot. He started off this year with a loss to Eric Yoo of Hopkins, which may be a sign of more things to come for the sophomore. This could be a tough year for Brown unless he finds a way to be able to win those types of matches.
#4 Singles, Michael Fleming, Sophomore, 11.15 UTR
Fleming was a freshman last year and was someone that I mentioned would really play a key role for the Eagles. He started at #4 singles and actually started the year strong, but was eventually moved up to #3 singles and immediately struggled. I think Fleming should be slotted in at #4 where he will be way more comfortable and can potentially get the Eagles some very consistent performance at the bottom of the lineup. Fleming had a very good run at ITAs, where he took out Simon Vernier of Swarthmore and ended up in the quarterfinals. I don't love basing lineup positions off of ITA performances, and I see Fleming as a #4 with potential to move all the way up to #2 singles when it's all said and done. A continuation of his fall success could be the start of a very nice career for the young gun.
#5 Singles, Ryland Byrd, Junior, 11.23 UTR
Mary Wash slotted Byrd in at #6 last year with a lot of success. Ryland will now be moved up into the #5 position looking to continue Coach Helbing's confidence in him. He suffered a loss to projected top Hopkins player David Perez in three sets at ITAs, and to be honest I'm not sure how much I can read into that given Perez's unknown tennis prowess at this point in his career. Either way, Byrd will be looked to be a consistent performer for UMW as the top 3 guys are all question marks against top competition. Byrd should enjoy a lot of success, especially against teams in the 20 and above range.
#6 Singles, Cole Tecce ?, Freshman, 11.05 UTR
By virtue of the highest UTR, I have the freshman Tecce slated in here to be the #6 player for the Eagles. However in the past, Coach Helbing has gone for experience at the bottom of the lineup more often than not, so I wouldn't be surprised to see a guy like Derek Hagino (has past experience) here. However, it also would pain me to have neither of the two freshmen in the lineup, so expect this to be a revolving door and determined by who's playing the best at any given time. Either way, UMW rounds out their lineup with a relative question mark at the bottom of the lineup, but a question mark that can easily turn into a solid option given the right development.
Doubles
Doubles, doubles, doubles. Don't love previewing doubles as you guys all know, but it's especially important for the Eagles given they have no margin for error against any top 20 team this year. They've started off the year strong with an ITA winning team in Hagino/Hughes that will be an absolute key to the season. With two high quality wins this fall (CMU #1, CMS #1), the Hagino/Hughes combo could be a huge boost to a team that has not really been a force in doubles as of late. This also allows UMW to put together a very solid #2 team in Miles/someone else, much like the way Emory builds their doubles lineup (obviously with less talent). UMW should be in most matches in doubles and I'd be surprised if they got swept by many teams, but I'd also be surprised if they sweep anyone in the top 15.
Schedule Analysis
One of my least favorite sections in the Mary Washington preview is normally the schedule analysis section. That's because Coach Helbing has shown that he likes to go back to the well for most of this matches, especially on Spring Break. This year, there are a few small changes  that should keep things interesting, and I will go through them below:
@ Kenyon, vs. KZoo @ Kenyon – Mary Washington actually starts off their year traveling to Kenyon to compete with the Lords on the road. I LOVE the fact that UMW is going out to Gambier, which presents them with an opportunity to knock off a potentially weaker Lords team this year that is ranked in the 20s. They'll also take on KZoo, who just struggled with Wabash on the road and also hold a ranking in the 20s. Both of these matches are opportunities for UMW to really solidify their season.
HOME vs. Sewanee, Coe, Stevens – A really interesting slate of matches here, where UMW has to fend off a low-key potentially really good Sewanee team, and a Coe team that has a few studs and could upset the Eagles on the right day. UMW probably gets out of this weekend with a 2-1 record, and the potential loss to Sewanee will not look that bad at the end of the year.
SPRING BREAK – Cal Tech, Whittier, Redlands, Pomona – This is one of the only times I'll get super negative about UMW and that's really due to scheduling. UMW has lost to PP and Redlands a total of 14 times in a row on Spring Break in the past 7 years. They continue to schedule the same teams over and over on SB for whatever reason. I get that familiarity is cool, but come on. Schedule a different team for ONCE here, even if it's a match against a random NE team that you don't normally play (they all go to California) or a Trinity TX, or ANYONE. You know what the definition of crazy is, right?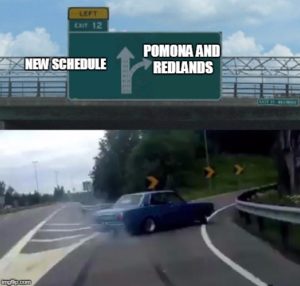 Regional Opponents – CMU, W&L, Swarthmore, Hopkins, Bates, CNU, TCNJ – A lot of good matches here, and UMW should have a fighting chance in pretty much all of these except maybe CMU. Hopkins and Bates present nice opportunity matches for teams that might be a tad weaker this year, while UMW gets their 20s fix by playing their rivalry match against W&L, and taking on CNU in a conference match. I personally would love to see a win over Swarthmore, Hopkins, or Bates – that would make this set of matches a success.
Conf. Tourney and NCAAs – Last year was the first year in a really damn long time that UMW lost their conference to CNU. I don't expect that to happen this year, but UMW saw that they are far from a lock in the CAC now. Another loss in the conference finals would be incredibly disappointing.
ASouth's 3 Keys to Success
Find the Chemistry – UMW has been plagued with some problem players the past couple of years, but this year seems to have a different feel to it. I am hoping that none of the newbies cause as much of a problem as Gilmore/Griffin did, and UMW needs to get back to its workmanlike, "team comes first" roots. They don't have the talent to be a knock your socks off and yell team.  Doubles success and clutch play are both affected by team chemistry in my opinion, and UMW has historically been a tight-knit team. Let's see that version of the Eagles.
Sophomore Improvement – Michael Fleming was expected to be a difference maker for the Eagles last year and he may have fallen a tad bit short of that. That being said he still had a quality year, but one that can get better.  The two sophomores in the middle of the lineup will be asked a lot of here as the Eagles top 2 will really struggle to keep up with top 20 teams. We normally talk about sophomore slumps in sports, but UMW needs the exact opposite from Brown and Fleming.
Idk, Work Hard and Stuff – But seriously, the key to the UMW team is just how much Coach Helbing can get his guys to improve throughout the year. It's well known UMW can't get the recruits a CMU or Hopkins can get, but they can certainly outwork them. They have done so in the past and come close to beating both of those teams, but they haven't been able to breakthrough.
Conclusion
That's all I got for you today, ladies and gentlemen. As you know, we've been experiencing some site issues recently which is why you don't see the Twitter feeds and all that jazz. We are working diligently to fix these issues. Until then, BTFD. ASouth, OUT.