AS: We're gearing up for the final and the final will probably be done by the time this is posted (NE Note: correct) – we will have a new DIII Champion to celebrate (NE Note: Congrats Emory)! However, the tennis is not over as we get to the NCAA Singles Tournament, which involves all of our favorite teams for one last time this year. The Singles bracket was just released to us on twitter (shoutout to multiple Coaches, you know who you are), and we have already digested it and chatted about it to great detail in the group chat. I've got all the writers that are available chipping in for this preview, let's see what everyone thinks! Remember to sign up for our bracket challenge, which locks at 11 a.m.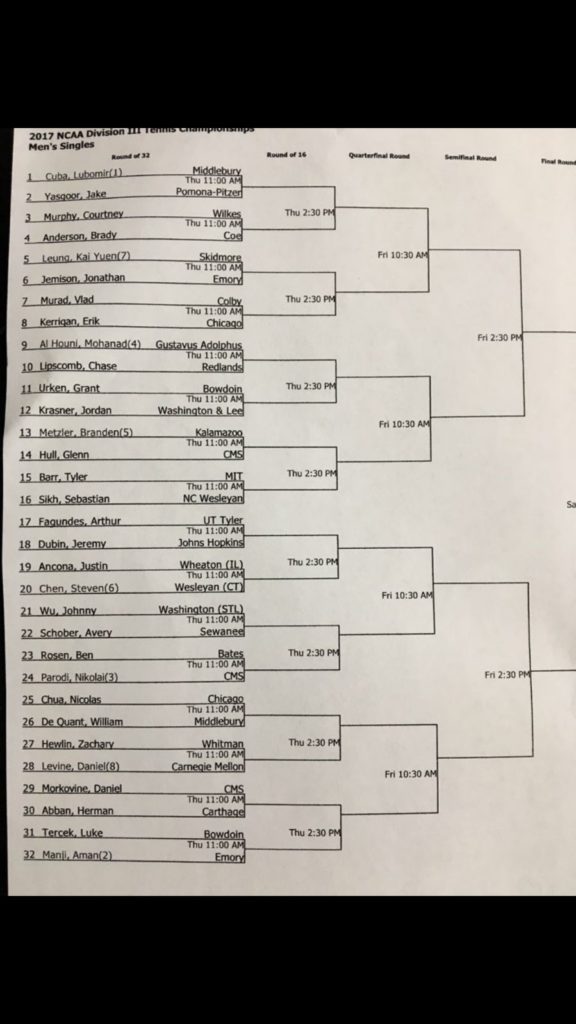 Best? Toughest? First Round Matches
Central: Undoubtedly the toughest first round draw has to be Metzler vs. Glenn Hull. Hull was a dark horse in this draw and he gets the returning finalist this year. A lot of things are at play here like Metzler hasn't played a significant match in at least 3 weeks, Hull could be tired from a team finals berth, Hull practices on a daily basis with the guy who beat Metzler last year (Skylar Butts), and this match isn't on the Kzoo home courts. I truly don't know who I favor here. There are two first round matches that I don't see as that difficult. Courtney Murphy vs. Brady Anderson and Tyler Barr vs. Sebastian Sikh are guys I don't see as all that dangerous. Two good opportunities for two players to lock up All American status.
West: That's a very tough first round, but I think the toughest might actually be Cuba vs. Yasgoor. Cuba is the #1 seed and coming off a brutal loss to Parodi in an otherwise stellar season. Yasgoor is a senior who has lost just one DIII match since February and has wins over Lipscomb (x2), Levine, Reed, Shastri, Tercek, Wu, etc. I'm a little surprised Yasgoor didn't get a seed, actually, and as an unseeded player, he gets the worst possible draw. Cuba will be favored here, but it's a shame one of these players will go out in the first round. I think both players have probably done enough in their region to earn all-American status (that is, I think Yasgoor should finish in the top 20 whether or not he wins this match), but dang.
AS: I love the first round because All-American status is on the line, something that really hurts to miss out on at individuals. The above matchups are obviously really good matches, but I do want to bring attention to Kai Yuen Leung and Jonathan Jemison. RegionalAS for some reason likes to claim that people are going to "do work on people if it's indoors" despite the fact that Jemison has lost in straight sets only three times in his career – to Skyler Butts, Nick Chua, and Graham Maassen (last year for Butts and Maassen). The only reason why this might not happen is because Jemison could be tired from three days of tough play in the team championships. Other than that, it's going to be a good match.
RegionalNEC: The matches already mentioned are all very worthy selections here, but I'm going to be very interested in the match between Brady Anderson (Coe) and Courtney Murphy (Wilkes).  Murphy hasn't had many opportunities to shine on the national stage, but has made good use of the chances he's had, with wins over Daniel Levine (CMU), Mark Fallati (Swarthmore), and Vayum Arora (CMU) on his way to the semis of the fall ITA, where he lost to eventual champion Rosenvasser (CMU) in three sets. This spring, his best win by far was a 6-3, 6-3 victory over Sebastian Sikh (NCW), and just last week he was up a set on Rohan Shastri (Williams). Anderson is a bit more of a known entity and has had some very nice Central region wins this year to earn his place at NCAAs for the second straight year. These two have an interesting contrast in game styles, and I'll be excited to see how they both handle the moment. It's about as good a chance as either will get to earn All-American honors, and for Murphy it would be the first time in school history, as no one has even made the tournament before.
NE: I agree that Hull vs Metzler should be a crazy 1st round match, and that Cuba vs Yaz and Leung vs Jemison should provide some fireworks, but I also think that Chua vs De Quant has the potential to be an absolute grind and that Rosen vs Parodi could be two guys hitting the cover off the ball. I wonder how fatigue will play a role for guys like Parodi or Manji. I also find it really interesting that Sikh and Barr, two guys I had pegged as wild cards (although this information was never made public) are playing each other in the first round. We didn't know how the wild cards would factor into the draw, as it used to be that each pod of four guys featured somebody from each region. Given how purposefully this draw was made, no guys from the same region are playing each other in the first round, I'm a little surprised that two wild cards are clashing that early.
Toughest Overall Draw for a Seed
Central: Levine's draw is pretty brutal. First round he gets last year's semi finalist in Zach Hewlin. I have never been that high on Hewlin, but he seems to win big matches especially in individual tournaments. Getting through that will give him either Chua or De Quant. I actually see that as an easier match than the first, but following that would be Manji. Yuck.
West: I mean, they're all tough draws. The matches listed above are tough draws for seeds. Leung plays Jemison. Manji has to play Mr. May Luke Tercek. There's no easy draws here.
AS: While there are no easy draws, there are certainly tough ones based on results. And the fact of the matter is this – D3Central is correct in saying that Daniel Levine got a brutal draw. He already went through this, but it would be an accomplishment for him to make the quarterfinals. Hot damn.
RegionalNEC: Metzler is going to really have to pull a rabbit out of his hat to make another run this year. A first round matchup against Glen Hull is absolutely brutal. I would say Hull is among the favorites, and I would argue is the best unseeded player in the draw. The fact that last year's finalist drew him is just awful luck for both guys, as well as for us watching. I would've liked to have seen this matchup between seniors much later in the tournament.
NE: I'm sorry, Levine may have a tough draw, but the answer to this question is Brandon Metzler. Yes, if he were to win his 1st round match against THE (at the time I wrote this) UNDEFEATED GLENN "SUNSHINE" HULL he would get the winner of the wild card battle I mentioned above (Barr/Sikh). But I have trouble seeing him as a favorite in that matchup, unless CMS wins it all today and some extra curricular activities ensue. To be the #5 overall seed and not really be a favorite in your matchup. Woof.
Pick a Champion
Central: I have already gotten a bunch of flack in our group chat saying how hard it is for someone on a finalist team to win the whole thing, but the best players usually win this tournament. To me, the best players are Parodi and Cuba. I like Parodi's draw better, but I am going to go chalk on this one and say Lubo Cuba takes down the title.
West: Everyone is going to look at Parodi and Cuba, but I am picking Aman Manji. Hard to think that the #2 overall seed is somewhat of a sleeper, but he is.
NE: Damnit West. I was also going to pick Manji to win it all. Manji and Cuba are the two favorites for a reason, and I think he has the easiest draw of the seeds, and so far has not played a long match. He, unlike Cuba, won't have to deal with doubles once we get to individuals tomorrow. I guess I'll keep it in the region and go Cuba.
RegionalNEC: Before yesterday, I would've said Cuba without a doubt. And frankly, I'm not going to let one loss 7-5 in the third sway me. I'm going with Lubo. #Lube
Easiest/Best Draw for a Seed
Central: Although a tougher first round with Rosen, I like Parodi's draw. If he gets through Rosen, he would take on Wu or Schober and then a potential matchup with Steven Chen. Chen was hot late this year, but has cooled off with losing to Dubin in the regionals and was down to Parodi before the elite eight match was finished. At that point, everyone is going to be good, but if seeds hold, he would take on Manji and then Cuba.
West: Aren't you paying attention? I just said that there are no easy draws. If one guy has a better draw than anyone else, I'd go with Mohaned al Houni. Lipscomb, Urken, and Krasner are all relatively unproven. That being said, I wouldn't be surprised to see him go down in the first round.
NE: For me, it's close between Manji, Alhouni, Chen. Manji just beat Tercek in straight sets yesterday, and while Mork will make him work for it, I think he matches up well with the Ginger Assassin (D3West patent pending). Honestly, I don't know much about Abban, but I'd like Manji in that matchup too. I know Chen just lost to Dubin last weekend, but relatively speaking his pod of four seems winnable, and the same goes for Alhouni (as West just said).
Sleeper Picks
Central: I called Glenn Hull a sleeper a month ago in my podcast with D3West, but after that draw I am concerned. I am going to go nuts here and pick a guy that no one is probably worried about. Erik Kerrigan from Chicago has the goods to play high level tennis. Yes he just lost to Ekstein from GAC, but to pick a true sleeper, you have to go with a long shot and he's my guy. Very possible he could lose in the first round.
West: As far as unseeded players go, Glenn Hull is the obvious choice, especially if he can get out of his difficult first round alive. After that, I'm not sleeping on Jeremy Dubin for one second. The dude finished the season on a tear; he'll be starting with a guy who fizzled a little bit down the stretch, and if he can get past Fagundes, he plays a seed who he just annihilated. He's got the game to go far. I could also see De Quant getting to the quarters in a relatively favorable draw (again, all the draws are very difficult).
AS: I have two sleeper picks here and only one of them was previously mentioned by West or Central. My first one is going to be Jeremy Dubin, who West has mentioned – Dubin finished the year on fire and walloped his seed, Steven Chen, in the regional finals. Dubin has a massive game and one that when he's on, he can easily run through 2-3 good players with no issue. Whether his focus will be there is the question, but those are the types of guys you pick as sleepers. Another guy that might not be mentioned is Ben Rosen, who I am going to pick to UPSET Nik Parodi in the first round. Rosen has been practicing for sure for probably like 2 months and he's already a damn good player. Watch out for that matchup.
NE: This was mentioned in the group chat, but Avery Schober is playing at home! We saw what that did for Brandon Metzler last year, and a senior with a crowd behind him has the potential to be extraordinarily dangerous. I would also watch out for Vlad Murad. He has a bit of a tough draw with Kerrigan and either Leung or Jemison, but he absolutely has the game to make the quarters and even take down Cuba if the matchup presents itself. If he gets lucky, Jemison will use all the energy he has left to take down Kai Yuen, and then Vlad will walk past him to the quarters. Finally, Fagundes is a guy I'm interested in. He had a phenomenal start to the year, and it certainly capable of making a deep run here.
RegionalNEC: I think Tyler Barr of MIT could make a run. If he gets by Sikh, he's going to have a very tough second round match against either Hull or Metzler, but the winner of that one may be exhausted by round two. With the first match scheduled for 11:00am and the second round at 2:30pm, that quick turnaround could give Barr an advantage.
Other Matchups/Players to Watch
Central: I am going to stick in region here and pick someone who no one really knows about. Herman Abban from Carthage is a newcomer this season. While he on court demeanor is a bit over the top, he has put together a great season. He boasts losses to Al-Houni in three sets, Anderson from Coe, and a split in two matches against Ancona but overall I think he can be dangerous. A first round match against Morkovine will be interesting.
West: I'm gonna be a blatant homer here and point out that Zach Hewlin made it to the semifinals of nationals a year ago, and he'll be playing a guy who didn't exactly finish his season on a tear. I still think Levine is favored there, but if he can his game going, he can make a run.
NE: I feel like this was just covered, but if we're sticking to regional biases I am paying special attention to Urken and De Quant. Both guys have somewhat favorable draws, and both guys have the motivation from losing in the Final Four to make a deep run.
That's all for the roundtable. Who do you think is going to win the tournament? Give us your thoughts in the comments or better yet compete in our bracket challenge to try and beat the bloggers! D3Regional won the team bracket challenge, and D3AS won the DraftKings challenge. Who will it be this time? Maybe you!