Welcome, boys and girls, to my final season preview (you can't see this, but I'm writing while surrounded by balloons and streamers). I left Wesleyan for last because for me they are one of the toughest teams to forecast, both for a lineup and their season prediction. This is a team that has been consistently on the rise over the past four years, not coincidentally after Coach Fried took over the program. Since 2013, the Cards have jumped from unranked, to 32nd, to 24th, to 10th. Let me say that again with a bit more emphasis. WESLEYAN HAS GONE FROM UNRANKED TO TOP-10 IN THE SPAN OF A PLAYER'S COLLEGE CAREER! Kudos to this year's seniors, but they know there is still work left to be done. Now that they are no longer just a little Pip-squeak, Wes is trying to manage great expectations and prove to everybody out there that they are not a Haversham. In order to be the best, they will have to beat the best. Since 1977, Wesleyan is a combined 3-97 against Amherst, Bowdoin, Middlebury, and Williams, with last year's win against Amherst being the only win in the last 1/4 century. 0-4 against the top of the NESCAC won't do it, as the Cards need at least one and maybe more in order to do something they have never done, qualify for the NCAA tournament!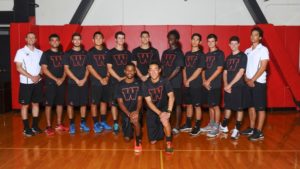 Location: Middletown, Connecticut
Coach: Mike Fried, 5th year as Wesleyan Head Coach
ITA National Ranking: 10th
ITA Regional Ranking: 3rd
Blog Power Ranking: 9th
Twitter Handle: @CardsTennis. Always reliable for in-match updates, same account for both Men & Women.
Key Losses: Zachary Brint (#1/2 doubles), Sam Rudovsky (#3/4 doubles), Michael King.
Key Additions: Princeton Carter (4-star/181 from Louisiana) & Jonathan Holtzman (4-star/128 from New Jersey)
Realistic Best Case Scenario: The freshman push their way into the starting lineup, the Cards are strong at all 6 singles spots, Roberts excels as a doubles specialist, Wesleyan challenges Midd and Bowdoin, even beating one of them, earns their 1st ever (I think) trip to NCAAs, and advances out of their region. 
Realistic Worst Case Scenario: The revolving door comes into play at the bottom of the singles lineup, the Cards continue to struggle in doubles, they finish 5th in the conference and miss out on NCAAs, thus giving D3AS the ability to laugh at me until the end of days (not that he's needed permission over the past couple years).
Scenario Review: Given how tough the top of the conference is, Wesleyan might be closer to 5th than 1st, but I do think they have an actual outside chance at finishing #2 in the conference! Their doubles will likely decide their fate.
Lineup Prediction:
#1 Steven Chen, junior, UTR=12.43, range #1-2. I just talked a lot about Chen in the Fantasy Draft recap, but Chen's fall doesn't really line up with the rest of his career, which allows me to easily shrug it off. His losses to De Quant and Derbani (Midd projected #2 and #3) were a little surprising, but he still notched a good win over Barr (MIT projected #2) at MIT and I think will be his usual grinding self come springtime. Chen played with Samson at MIT, a departure from playing with Liu last year, but my guess is that new partnership is here to stay. If Chen and Samson can hold down the fort at #2 doubles, it makes Wesleyan that much more formidable
#2 Michael Liu, senior, UTR=12.03, range #1-4. Like Chen, Liu's fall wasn't his best, but I have total faith that he will not let his final season go to waste. While a career in finance might be on the senior's mind, he may have found a doubles partner in fellow senior Jake Roberts. You don't have to convince me that a senior tag team could be the answer to Wesleyan's troubles at the top of the doubles lineup. At MIT, they beat the projected #2/3 team for MIT, the projected #1/2 team for Midd, and the projected #1 team for Williams. If Liu regains his singles form, and he and Roberts play well at #1 dubs, I don't see Wesleyan having any issue making NCAAs!
#3 Joachim Samson, sophomore, UTR=12.29, range #2-4. Small-ish range on Samson for the middle of the lineup, as I believe he is one of the more known commodities in this lineup. It looked like he was getting better all of last spring, and played three tough opponents this fall (W over Sean Ko, projected MIT #3 and L's to Jiang, projected Bowdoin #4, and Granoff, projected Brandeis #2-3). Last spring Samson went a ridiculous 13-2 at #4/5 as a freshman, with his only regional loss coming to De Quant, 6-4 in the 3rd at NESCACs (whom he also beat in straight sets earlier that spring). I think Samson has the potential to be a heck of a player, and if Liu or Chen does end up struggling to start the year, could do just fine battling at #2.
#4 Tiago Eusebio, junior, UTR=11.68, range #3-7. I was pretty excited about the DI transfer last spring, but Eusebio had a bit of an up and down sophomore season. His 2017 fall was similar to Liu's as he lost at the ITA to Bunis (projected Brandeis #2-3), Derbani (projected Midd #3), and Bessette (projected Amherst #3-7). I'm a little more worried about Tiago than some of the aforementioned players, if only because he hasn't had the longer term success. He definitely has the potential to play #3 in this lineup, but he could also fall to a spot where he wasn't even in the starting six. It's a good problem for Wesleyan to have, but the fact that Coach Fried has this much talent means guys will likely have shorter leashes, especially as the season goes on.
#5 Jonathan Holtzman, freshman, UTR=12.09, range #4-7. And now we're into pure guesswork! Holtzman had a good MIT tournament, beating Heidenberg (projected Amherst #5-7) Bunis (projected Brandeis #2-3), before pushing Marchalik (projected Amherst #2-4) to 3-sets. But he also fell in the 1st round at the ITA, which can be interpreted in two ways. 1) He lost to a player who he was favored against or 2) He was viewed by Coach Fried as ITA ready even as a freshman playing his first match. I have Holtzman ahead of Daniels and Roberts for that exact reason, but I view #5 and #6 as up for grabs this spring. Jon will be one of many Cards who could start and play as high as #4, or spend most of the year looking up from #7 and beyond. No matter where Mr. Holtzman plays this year, he might well have a spot in this lineup for years to come.
#6 Cam Daniels, junior, UTR=12.46, range #4-7. Cam has always been a player who impressed me. So speedy, can run just about everything down, and is very underrated by those outside of the region. Wesleyan has a lot of new talent, but Daniels has both the lineup experience and the game style to earn some big wins at the bottom of the lineup this year. The high UTR is no fluke, as Cam is 5-1 in singles this fall with wins over three highly touted recruits (Raghavan-Williams, Go-MIT, and Paradis-Amherst) and then two bigger wins over Sachin Raghavan (projected Williams #4-6) and Hamid Derbani (projected Midd #3). All five of those wins came in straight sets, and Cam won the back draw (after falling to Grodecki, projected Williams #1) in the 1st round.
Other contenders: Jake Roberts, senior, UTR=11.11, range #5-7, Princeton Carter, freshman, UTR=11.39, range #5-7. Seniors Greg Lyon and Cam Hicks both are more likely to break into the doubles lineup than the singles lineup. For my money, Roberts and Carter are the two most likely singles lineup candidates who have not yet been mentioned. They are at opposite ends of their careers, but both could play key roles this year. Roberts is a senior who has fallen down in the lineup between each season. Most of that stems from the recruiting classes Wesleyan continues to bring in, but part of that might also be Coach Fried's way of coaching. We've seen similar things with Steven Monk and even old timers like Jeff Legunn before that. No preferential treatment, just whoever gives the team the best chance of winning! While Roberts' career is ending, Carter's began with a bang, taking down Derbani (projected Midd #3) in 3 sets at MIT. He then lost 1&1 to fellow-freshman Kaplan (projected Amherst #5-7) in the following round, but it was still a good showing for Mr. Carter. Carter could also be a player for the bottom of the doubles lineup, as he played at the ITA with Samson and MIT with Hicks.
Schedule Analysis: http://athletics.wesleyan.edu/sports/mten/2016-17/schedule
You know how DI college football teams open up against weaker competition to give their team some confidence moving forwards? Now picture the exact opposite. Wesleyan's first match of the year will be the 1st round of the Stag Hen at CMS, where they have earned the No. 6 seed and will take on the hosting Stags in the 1st round. If they fall, they will likely take on Skidmore and either PP/Case or Whitman in the consolation draw. That is a HUGE first couple days for the Cards, and they need to come out with two wins or a win over CMS for it to be considered a success. But there ain't no rest for the wicked, as Wesleyan travels to Redlands less than 48 hours after the end of the tournament, for another match that the Cards will likely need to win to keep themselves in a good spot for Pool-C.
After spring break, Wesleyan hosts MIT, Williams, and Conn in early March. While the MIT match could be a good one, the Williams match is one I'll have circled with extreme postseason implications. After those matches Wesleyan will have to host a region of NCAAs if they want to play another match on their home courts (ignoring the fact that they have never made NCAAs) because the finish the season with six straight NESCAC road matches. Tufts, Trinity, Midd, Amherst, Bates and Bowdoin comprise a brutal 16-day travel bonanza for the Cards, who will learn to love the 12-seater vans or perish along the way.
Wes should be favored against Tufts, but we all know what playing the Jumbos indoors can do. Amherst and Middlebury could both be amazing matches, and that back-to-back should show us exactly how fit (both mentally and physically) the Cards are. Finally, a Maine swing for Bates and Bowdoin to wrap up the regular season. Like Tufts, Wesleyan should be favored against Bates, but it's a bit of a trap match with the defending national champions looming just 16 hours after the scheduled start time. All of the NESCAC should be battle-tested and ready when May rolls around, but there is almost always at least one casualty who falls from a position of strength.
Keys to Success:
Spring Break. While the crux of their schedule undoubtedly comes in April, Wesleyan's spring break trip will carry enormous postseason consequences. The match vs CMS to start the year is tough, but if Wesleyan can finish 5th at the Stag Hen, and take care of Redlands, they will be in a very good spot coming out of California. What I'm about to say would have been considered unthinkable a couple of years ago, but they might even be able to push CMS. It's obviously way too early for predictions, but I cannot wait for the live video from that match!
Doubles. We know that Wesleyan's singles are just about as strong as any team's in the country, yet the Cards are not generally considered among the national championship contenders. We know Wesleyan has the ability to play great doubles. They came out and took leads at Midd and vs Bowdoin last year, and both matches went absolutely down to the wire (both 5-4 losses). The two losses that kept Wesleyan out of NCAAs came to PP and Williams, both fringe teams themselves. What happened in those matches? The Cards were swept in doubles and fought but were unable to recover. Wesleyan also had to fight back from deficits against teams ranked below them, as the Cards were down 2-1 to Amherst, Tufts and Bates. Going down 2-1 against a NESCAC team is not the kiss of death for a team like Wes, but it makes a postseason altering slip-up that much more likely. If Wesleyan is going to make NCAAs this year, they are going to have to play better and more consistent doubles.
Seniors. Michael Liu and Jake Roberts are the likely starting seniors for the Cards, and if both perform this spring they might just get a fairytale send-off. Other than winning a national championship, taking a team to its first-ever NCAA berth would probably be the most incredible way to end a career. Just look at the Northwestern basketball seniors for inspiration! Liu will be a mainstay in both lineups, Roberts will likely have his chance to play in both, but will anchor the doubles. Hicks and Lyon both have a shot at the doubles lineup as well. Wesleyan is very talented, but they were almost as talented last year. Sometimes the difference between being good enough to get over the hump, and actually doing so is simply exceptional leadership. There is a reason The Blog loves seniors.
Season Prediction: Uh oh, the toughest part of the entire preview. Wesleyan should technically be favored against everybody they play with the exception of Bowdoin, Midd and CMS. That being said, their matches against Amherst, Williams, PP, and more will be very close to toss-ups. It's time to make good on my promise from 2014, and continue taking steps in the right direction. Wesleyan finishes top-4 in the conference, and makes NCAAs for the first time!