NCAA Singles Bracket Challenge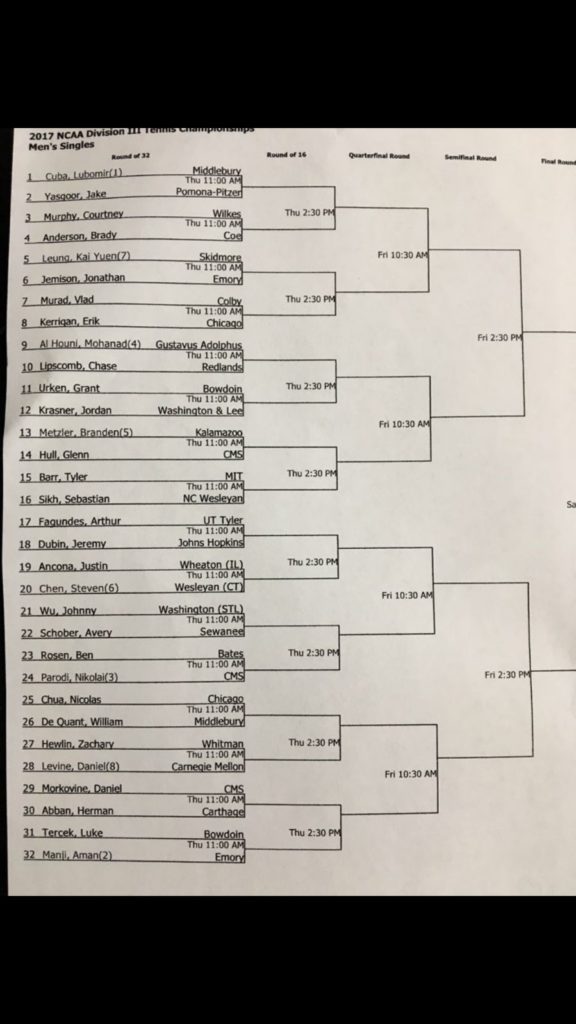 Quick turn around here, boys and girls, but here is your singles bracket challenges. We will be doing an article on the draw as well, if you want to wait to get our EXPERT analysis before making your picks. You have until 11 a.m. (Eastern) tomorrow (Thursday) to fill out your singles brackets. Same rules as the team challenge apply. You'll have to pick round by round (follow the instructions below). Points double each round. The winner gets to do a little something special with us…good luck!
HOW TO MAKE A BRACKET
1) Open the above link in a new tab/window (after which you should be taken to the bracket-maker site)
2) Click on the link (after which you should see the draw)
3) Click the Predict It link, in the top left corner of the draw
4) You have to register with the site (for free of course)
4a) Enter your name and REAL email. The name doesnt have to be real, but the email does bc you will get a confirmation link.
4b) Get your new password emailed to you (this is instantaneous)
4c) Enter your new password with your email into the site (after which you should be taken back to the draw)
5) Pick your 1st round matches! You can enter scores into the text box that appears in each match section.  These are just for fun, and will not count towards your point total.
6) After picking all the 1st round matches, click enter at the bottom of the page (after which you should be taken to all 2nd round matchups). PLEASE NOTE ALL MATCHES WILL BE LOCKED IN AFTER PRESSING ENTER. IF YOU WISH TO CHANGE YOUR PREDICTIONS, YOU WILL HAVE TO DELETE YOUR BRACKET AND START OVER (at the bottom left of the page).
7) Pick 2nd round matches
8) Press enter at the bottom of the page to be presented with 3rd round matchups.
9) Continue picking and hitting enter at the end of each round until you have picked a winner.
10) Enjoy the tennis!