Welcome, D3 Tennis fanatics, to our next Fantasy Draft Blogger matchup. Last year, I was nearly unanimously voted as one of the worst teams in the draft.  Oh well, it's nice to be famous for something.  This year, I face off against D3Tree in his first fantasy draft.  Give us your comments on who you think would win this hypothetically awesome matchup.  Shoutout again to D3NE on his awesome photoshop work.  #FIGHT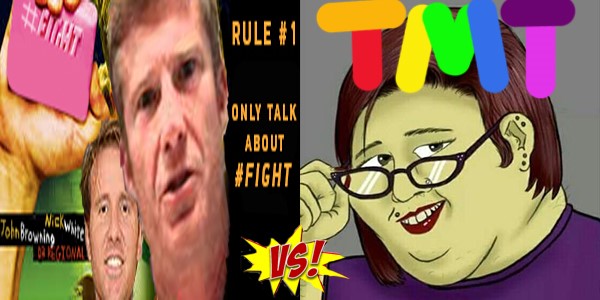 Team Name: #FIGHT
Manager: D3Regional
Coach: John Browning
Ast. Coach: Nick White
Projected Singles Lineup
Aman Manji

Grant Urken

Tiago Eusebio

Aaron Carey

Sachin Raghavan

Peter Leung
Projected Doubles Lineup
Max Hawkins/Vlad Murad

Peter Leung/Michael Arguello

Jake Ly/Jake Roberts
Projected Backups
Michael Arguello

Vlad Murad

Sam Malech

Jake Ly

Max Hawkins

Jake Roberts
Team Name: Trigger Me Timbers
Manager: D3Tree
Coach: Jon Satkowski
Ast. Coach: Ben Shapiro
Projected Singles Lineup
Branden Metzler

Johnny Wu

Chaz Downing

Timo Van der Geest

Alex Brenner

Andrew Harrington
Projected Doubles Lineup
Spencer Simonides/Brady Anderson

Chaz Downing/Jordan Pitts

Timo Van der Geest/Alex Brenner
Projected Backups
Brady Anderson

Chadwick Stone

Jordan Pitts

Winston Yu

Austin Diehl

Spencer Simonides
D3 Regional Team Analysis: To start off, I feel a heck of a lot better about my team than I did last year.  Last year, I completely forgot that doubles was a thing that happened in college tennis, and I really just focused on the bottom of my singles lineup and absolutely nothing else.  This year, I tried to take a much more holistic approach, which I think really paid off.  In singles, I absolutely love my #1, #2, and #6 spots.  Manji looks like he is going to be a
beast this year at #1, and if he were to falter, Michael Arguello from Brandeis can step in given the level he has played at this fall.  I believe I have a very similar situation at #2, where Urken had an excellent fall (winning MIT Invite) after a terrific freshman season.  If for some reason things go south for Urk, Vlad Murad is a terrific backup in my opinion.  Down at #6, Peter Leung should be a beast.  I had hesitations about him even starting this year, but after making the finals of the central ITA, I bit and am glad I did.  He has played #4 and #3 in Chicago's two matches so far this year, giving him a ton of value as a #6.  While these three spots should be my strongest spots, I also feel great about Tiago Eusebio (Wesleyan #3), Aaron Carey (Johns Hopkins #4), and Sachin Raghavan (WIlliams #5).  They might not be the absolutely strongest at their spots, but they should be extremely dependable, and are capable of scoring some upsets along the way.  
I really focused my backup picks on doubles guys, which is why five of my doubles starters actually come from my backups.  Hawkins from Chicago was my very last pick and is a great doubles guy, and him and Vlad (#1 doubles for three years from Colby) should be a strong #1 team.  Peter Leung (projected #2 doubles from Chicago) should pair well with Michael Arguello, who should continue to play #1 or #2 doubles this year for the Judges.  At #3, I have Team Jake with Jake Ly (#1 doubles from Redlands) with Jake Roberts, who I think can make a return to Wesleyan's doubles lineup this year with his booming serve and lefty forehand.
Overall, I don't think my team has any glaring holes.  I should be strongest at #1, #2, and #6
singles, along with #1 and #2 doubles.  That's five spots, which is enough for a win last time I checked.  In terms of coaches, I love who I have.  John Browning and Nick White (assistant coach at MIT) will bring a huge sense of motivation, passion, and confidence to my team, and I think it's exactly what my squad needs to fire them up to take down these other teams.  #FIGHT
In terms of the matchups, I think this would be a battle.  I like my team at #1 and #2, though I think Urken vs. Wu could certainly be close.  At #3, I think Tree as the advantage with Downing over Eusebio of Wesleyan.  I think Brenner from Tree's team has the slight advantage over Raghavan, and I think #4 and #6 have the potential to be the closest of all the singles matches.  Peter Leung vs. Andrew Harrington should be a terrific match at #6, where Harrington does have the UTR advantage, but I think Leung is playing better right now.  Coach Browning also would have the perfect game plan to beat his guy in Harrington.  At #4, Aaron Carey for me is a  bit of an unknown commodity, but I think he challenges Van der Geest.  I think a singles split is pretty realistic, where it would then come down to doubles.  I think #1 doubles is going to be a battle, with Anderson/Simonides both having a lot of #1 doubles experience in their careers, as do Hawkins and Murad.  I do like my chances at #2 doubles as neither Downing nor Pitts have a ton of doubles experience, but Leung and Arguello have a ton, as well as the UAA bond they have going on.  At #3, I also think I have the advantage, given both Jake's (Ly and Roberts) have a lot of doubles experience, and I think Roberts will be somewhat of a doubles specialist for Wes this year.  I'll give D3Tree #1 doubles and myself #2 and #3 for the 5-4 win.
D3Tree's Take:
Regional's squad looks pretty darn good. I especially like the heart of his lineup in terms of 'volatility.' Regional pointed out that his favorite positions for his singles lineup are 1,2 and 6 but I personally believe that the middle of his lineup is just as intriguing with their surprise factor. Eusebio and Carey have the ability to pull off big upsets and steal points to carry #FIGHT to victory this year. A L is a L whether it's 4-5 or 0-9. So if those players don't pan out on a certain night it's not that big of a deal because they can also bring you back from the dead with a couple of unexpected wins that put your team on the 5 point threshold for victory. After a cursory glance I think that Regional's weakest spot is his #5 position. This is simply a mindless UTR lookup and so I could easily be proven wrong and for his team's sake I hope I am. As for doubles I'll refer you to his analysis as I don't know much about a handful of his players. I will say it'll be interesting to see how having two Chicago players in his starting doubles lineup will pan out on a team that has in the past been cited for having a lack of doubles depth. Hawkins' fall was fantastic as he and freshman Raclin made a nice run to Small College Outdoor Nats, but with a Loss (albeit to a D2) team to start off the year together we may see a regression to the mean. Overall though I think Regional put together a nice squad and I am impressed with the overall depth as well as his bench players are equally as talented.  
D3Tree Team Analysis:
This squad is a family. I've never met them and they likely don't know each other but it feels as though we've shared many a story and bouts of laughter together. With this being my inaugural fantasy draft I tried my best to build a squad that was simultaneously deep and dangerous. Another attribute of my team that I was cognizant of while building this program was keeping my assets diversified by not grabbing multiple players from the same team. For better or worse I simply didn't want the possibility of a bad season by a single squad sink the ship that is my fantasy season.
Running through the starting lineup quick I've got a proven winner at the top in Branden Metzler of Kalamazoo. Due to my systematic tardiness, coupled with simply being lazy, I have the benefit of some early season results to judge the early impact of a few starting players. Metzler is off to a hot start in the 2017 spring season with wins against NCAA qualifier Justin Ancona of Wheaton as well as Paolucci of Kenyon. Metzler is 41-4 combined in singles matches over his last 45 singles matches and should be a constant threat for me at the #1 position. At #2 I like Johnny Wu of WashU to be equally as menacing. Wu has started the season for the Bears at the #1 spot and got smoked by a solid player from Drury University (12.94 UTR). If he holds his current top spot he'll have plenty of opportunity to nab some wins against top guys (and perhaps other bloggers #1s) and will prove all the more valuable at 2. At the heart of my lineup I like my Chaz Downing pick as he has been slowly improving throughout this early season, rising from the #4 position to #2 (with the absence of Rozenvasser) and recently was named UAA
athlete of the week. Middlebury's Van der Geest should be solid for me at #4 but he hasn't had any results yet this spring so I am a little uncertain on how formidable he'll be. I have an uneasy feeling he may struggle but I hope forthcoming results wash away those concerns. At the bottom of the lineup I have two very strong UTR players that should be able to at least get one win amongst the pair of them if not two.
My squad's doubles I sort of put together as an afterthought. It's not incredibly weak by any means but it is definitely the soft spot of Trigger Me Timbers (if there is any). At the top spot I
paired All-American doubles player Simonides of PP with the tall big serving Anderson in hopes of stealing a few matches here and there. My #2 doubles team is interesting as Pitts of Trinity TX (Freshman) has been absolutely on fire this year at the position, notching wins over the #1 rated Junior College as well as D1 Abilene Christian. Downing may not have the doubles pedigree as some but he has been playing very solid tennis in general and I'm hoping that could translate into doubles strength. My #3 doubles team pairs a tall Senior in Brenner with a proven strong doubles player in Van der Geest. I'm banking on them being the toughest out for my squad. With the singles lineup being as strong as it is I really just need to come away with a point to have the team W in play.
Looking at the H2H matchup, it'll be a doozy like Regional mentioned. Regional seems to like Manji over Metzler at the 1 spot, by they played each other last year and Metzler came away with a wax (6-4, 6-1) so I'm giving myself the point there. Urken will be very solid at 2 and while I think Wu has a chance to take that point i'll concede it to Regional. At 3 I think it's a dangerous matchup for Downing. Eusebio has some solid results, even in losses. I think it's pretty 50/50 despite Downing's +0.23 UTR edge. I'll give myself the point but only because I'm a homer. At #4 we have Van der Geest and Carey. Carey is a solid player and took Rozenvasser to a third in the fall. Timo has a slightly higher UTR but I'm a little wary of his trajectory so I'll give the point to #FIGHT. I've got to go with my #1 draft pick Brenner at 5 with over a half point UTR edge and some nice wins in the fall. 6 is an interesting one too. Regional mentioned that Leung has been in good form. He certainly was in the fall, and he hasn't lost in the spring either but he did win in a tight third set breaker against Coe at 4. I don't know much about Harrington's game other than he has a +0.28 UTR advantage over Leung. I want to give myself the point here as well but for fun I'll make it 3-3 in singles.
Doubles is where I'm a little lost in terms of edge. At the 1 spot I want to take the victory as Hawkins is coming off a loss against Lewis University (who aren't slouches) but I like the tall duo of 6'6" Simonides and 6'4" Anderson to hold serve and win in breaker if need be. At 2 doubles I'll concede the loss to Regional citing his insight for the reasoning. I do think Pitts has shown promise and Chaz can develop the pedigree. But for now they are simply too raw to pencil in a W. Lastly at 3 doubles I'm going to give my squad the W for controversy's sake making Trigger Me Timbers live up to its name. I've got a rising senior and a proven solid #3 doubles player at the bottom and I'm hoping they can carry my squad to victory.
D3Regional's Take:
I think Tree has a heck of a singles lineup.  His #5 and #6 singles guys have a UTR of 12.22 and 12.26, pretty impressive for their positions.  Downing at #3 was a great pickup, and Van der Geest will be solid at #4.  Tree is also very solid at the top of his lineup, where Metzler is capable of beating anybody (though he may not be as consistently great as some) and Wu can run around grind down anyone.  I think the middle of his lineup (#2-5) is particularly strong, and Brenner at #5 has the chance to have a terrific year for CMS, as well as Tree's fantasy team. While Tree's #1 doubles team of Simonides and Anderson should be very strong, I think his #2 and #3 doubles teams are weaker.  Van der Geest is the only guy out of those 4 with consistent doubles experience, and that has been at #3 for Midd.  While Downing did start this season at #1 doubles against Duquesne, he didn't play any doubles last year and needs more experience in my opinion.  Overall, Tree does have the ability to take down any team, simply due to his pure singles strength, though doubles might get in the way of Trigger Me Timbers having a truly elite team.
Conclusion
So, D3Tree and I are pretty aligned in how we think this match will go.  We've each got a 3-3 score after singles, but I'm giving #FIGHT 2 of 3 doubles while Tree is giving his team the doubles advantage.  What are your thoughts?  Let us know!